This is probably the only volume of The Complete History to include the word 'goolies,' but hey, it's Doctor Who, so you never know.
Matt Smith's tenure as the Eleventh Doctor takes up the most books of this collection – a fact I'm very, very pleased about – so I knew we wouldn't have to wait long before we got our first HC dedicated to his stories. We start off with Series 7: Dinosaurs on a Spaceship, A Town Called Mercy, and The Power of Three, to be exact.
It was a glorious time to be a fan because after a long wait, we had five shiny new episodes to plough through, leading up to a new companion and the much-anticipated 50th anniversary. It all seems so very long ago, but paradoxically (and entirely appropriately, given this is Doctor Who we're talking about) just yesterday.
It was also around this time that my frustration began. Not with the series, no, but with fandom.
I was concerned about the rise of negativity. I even wrote an article about it, which split readers into three groups: those who agreed with me, those who didn't but explained their reasons and seemed just, and the third party whose comments consisted largely of swearing, calling each other trolls, and generally having "I'm not negative, Doctor Who is just bad now, everything sucks, Moffat must go, death to fun" sentiments.
And this hardback, too, gives you just the first glimmer of that negativity, with the Broadcast section for A Town Called Mercy noting how one viewer on Points of View said that the show as going downhill "due to the failure of the writers to innovate", while The Daily Telegraph went with the heading "Is it just me, or is the latest series of Doctor Who a bit rubbish?"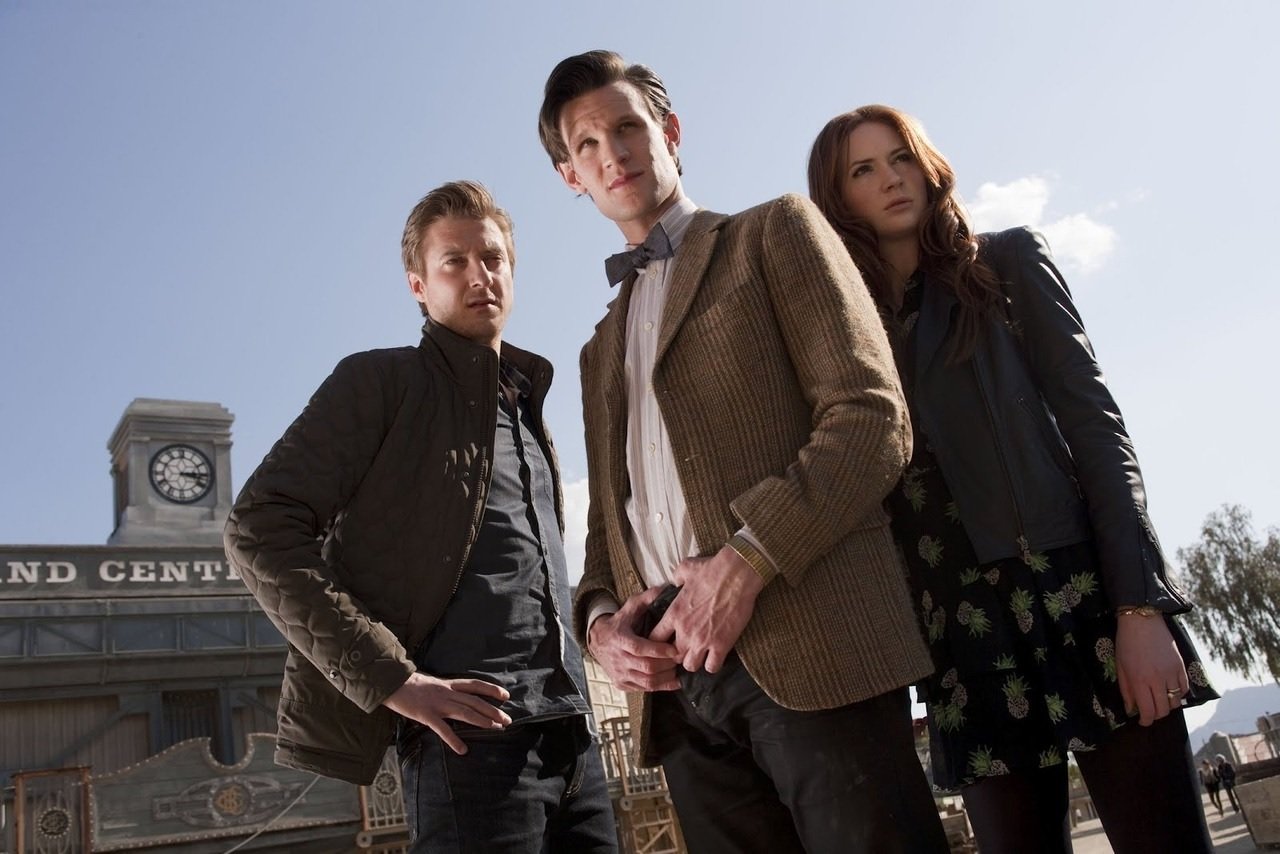 (After poring over this book, learning about the effort all parties go to in order to ensure the show is as good as it possibly can be, it's a bit outrageous to read any criticism that essentially accuses the production team of having a laissez-faire attitude. Nothing is above criticism, but how dare people insinuate that the team simply don't care as much anymore?! See, this is what riles me. No one sets out to make bad television, and I think that sentiments drives the DWC.)
The same negativity cannot be extended to this issue of The Complete History, which keeps up the solid start the partwork had. Those first four were originally released on the test period, so they had to be top-notch. Issue 5 is just as exceptional.
It seemed an odd choice, grouping these three episodes together in one book: surely leaving Asylum of the Daleks and The Angels Take Manhattan hanging into other volumes is a little strange? Amy and Rory's final on-screen adventure is tonally very different to The Snowmen, even if the former informs the latter greatly. Equally, The Power of Three was the last one Karen Gillan and Arthur Darvill filmed, so why not pair that and Angels as one?
This does, however, demonstrate how productions can contrast so substantially.
Chris Chibnall (incorrectly called "Chris Chinball" in one pull-out quote; nobody's finest hour) wrote the stories that bookend this HC, and their progression couldn't be more different: Dinosaurs on a Spaceship was complete in a couple of drafts, whereas The Power of Three was… well, massacred.
The production team were so pleased with the first draft of Dinosaurs that they asked Chris to write a second story (which bodes very well for Chibnall's showrunning). That much is common knowledge anyway. This book reveals that he had a further script for Series 7B, including Clara, in the works, but he had to abandon it so he could write The Power of Three and develop Broadchurch.
This meant that The Power of Three was written in stages: one script would only go so far as a certain scene; the next would further it slightly; and the next even more so. Then when it got to Production and Post-Production, it was butchered. Chopped and changed and bits added in and parts taken away – the whole thing was restructured.
It seems we lost some really good dialogue, but also some filler too.
Some of the plot holes are smoothed out by the deleted content, but the Shakri remain pretty elusive. It'd be nice to have the species revisited, but I doubt it. In fact, so much was cut that brief reshoots were needed. It must've come as a bit of a surprise to the cast when they saw it on transmission. That opening voiceover, for instance, didn't exist until much later in the process, remaining one of the last things Karen recorded before leaving the regular role.
Yep, this is quite a sad issue. These are the last days of the Ponds, their last scene filmed (apart from Gillan's brief return in The Time of the Doctor) being when they stepped into the TARDIS at the episode's conclusion.
Nonetheless, this remains a joy to read. The whole volume is interesting and presented beautifully. We get such scope in these episodes that each section looks so radically different.
A particular favourite is A Town Called Mercy. I love that episode, and the section devoted to it in The Complete History is equally as solid. The benefit of this issue's stunning photography is that you get to see the locales and characters in so much detail.
The Gunslinger, especially, can be appreciated better. While there's not a wealth of images of him, the ones big enough to study show a lot of intricacy and attention. I never realised his fingertips were metal, for instance. Honestly, it's a gorgeous-looking episode, and the Gunslinger's the cherry on top.
As ever, this is an illuminating read, so here are a few things I learnt:
Rupert Graves left school at the age of 15 and ran away to join the circus. No, really.
The end of Dinosaurs on a Spaceship changed quite a bit; originally, Nefertiti was to have sacrificed herself on Solomon's ship.
It's widely known that the area in Almeria, Spain, called Mini Hollywood, which doubled for Mercy, was built in 1965 for the film, For a Few Dollars More, and its subsequent sequels. But it came as a surprise to find out that the site was then purchased by some of the movie's extras so they could run it as a tourist attraction… and to get further work in Westerns filmed there. Canny thinking!
The scene in which the Doctor is called out of the Sheriff's office by townsfolk and told to "take a walk" was inspired by a similar one in To Kill a Mockingbird.
Matt Smith adlibbed the Eleventh Doctor's catchphrase, "Geronimo" when the Cube is about to open.
The book also clears up that business with the Rory leaving the phone charger in Henry VIII's bedroom, which prompted fans to speculate that A Town Called Mercy happened during The Power of Three. I won't spoil it for you.
Profiles this time cover Rupert Graves, Ben Browder, and Jemma Redgrave; each is as thorough as ever, with a favourite being Rupert's – but only because he comes from the town I live in. Still, it's a surprise that there isn't a biography for Mark Williams, aka Rory's Dad, Brian. Redgrave, for instance, stars in numerous episodes, but these are the only two in which Brian appears, so his exclusion is strange.
I guess that's my only gripe with this volume… which says a lot about how pleasing this partwork is proving to be.
I'd been looking forward to this first Matt Smith era issue, and it hasn't let me down one bit.
NEXT: ROBOT, THE ARK IN SPACE, AND THE SONTARAN EXPERIMENT.
Want to subscribe? Head over to the Doctor Who: The Complete History site – and don't forget about the premium subscription offer too!
(Originally appeared on Kasterborous Dec' 2015.)