Today sees Big Finish release four exciting adventures featuring the Fifth Doctor and Turlough.
Doctor Who – The Memory Bank and Other Stories, features four brand new tales written by Chris Chapman, Paul Magrs, Eddie Robson and Ian Potter.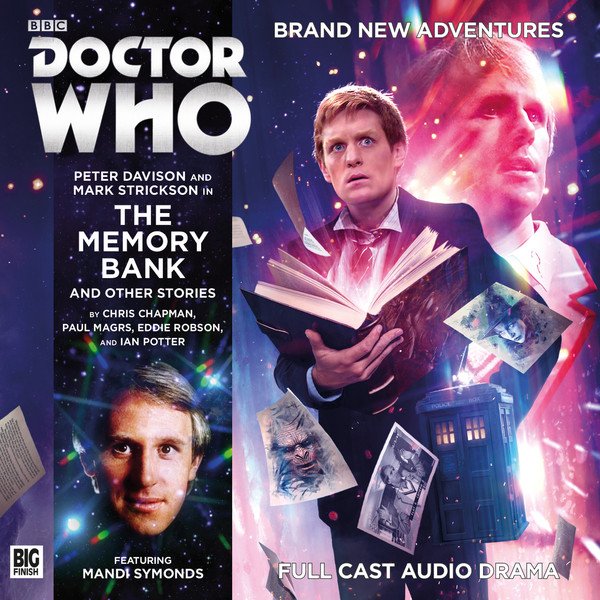 Starring Peter Davison and Mark Strickson, the stories include:
The Memory Bank by Chris Chapman
The Doctor and Turlough arrive on a planet where to be forgotten is to cease to exist. But the Forgotten leave a gap in the world – and that's where the monsters are hiding.
The Last Fairy Tale by Paul Magrs
Deep in the heart of old Europe, the village of Vadhoc awaits the coming of a mythical teller of magical tales – but not all such stories end happily, the TARDIS travellers discover.
Repeat Offender by Eddie Robson
The Doctor has tracked the deadly Bratanian Shroud to 22nd century Reykjavík – where he's about to become the victim of a serial criminal. Again.
The Becoming by Ian Potter
A young woman climbs a perilous mountain in search of her destiny. The Doctor and Turlough save her from the monsters on her trail – but what awaits them in the Cavern of Becoming is stranger, even, than the ravening Hungerers outside.
Director Helen Goldwyn commented:
"It's been so much fun working on these four stories as the styles are so diverse but the theme that connects them resonates like a pulse through the whole set. This notion of the strength or intangibility of memory: the comic impact that mis-remembered facts can have (The Last Fairy Tale); the power of collective memories (The Becoming); the doubt that sets in when memories are distorted (Repeat Offender) and what it feels like to not be remembered at all (The Memory Bank). Throughout all of these stories, the thing that remains absolute is the brilliant, occasionally spiky relationship between The Doctor and Turlough. What a joy it's been to hear them sparring again as they share adventures!"
Doctor Who – The Memory Bank and Other Stories is out now from the Big Finish site on both Download and CD for £12.99 and £14.99 respectively.