The very first foe to be faced by the Doctor and Bill will be his long-standing enemies, the Daleks, when the show returns in April with The Pilot.
Not only will this be the second series in a row to feature the Daleks in the opening episode after Series 9's The Magicians Apprentice, but we've already seen some of the episode in Pearl Mackie's introduction in Friend from the Future – therefore fulfilling the promise that the footage would turn up in a future episode, namely, the first one! So it wasn't too long a wait then, that's a change!
So, it looks like Bill might finally get some answers to her sucker-based questions then.
In other screengrabs from an absolute deluge of BBC images, including the 'Wet Dalek Lady' who seen yelling 'exterminate!' during the latest trailer, will also appear in The Pilot. Her character is called Heather (she'll always be 'Wet Dalek Lady' to us) and is played by actress Stephanie Hyam.
Another image from the first episode is the eye-catching shot of Bill emerging from what appears to be some sort of blue energy field – perhaps her first contact with weird alien tech outside of the TARDIS…or even inside the TARDIS.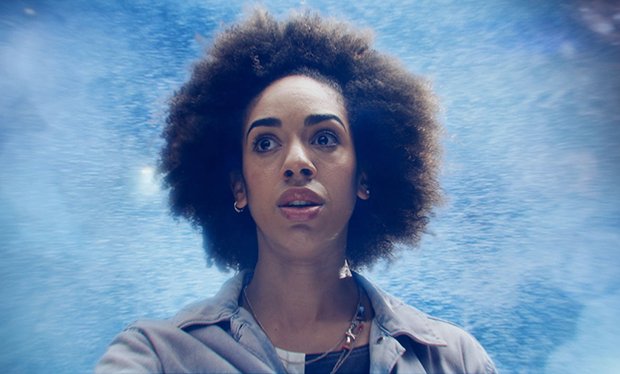 Elsewhere, the screengrabs confirm that the giant underwater eye is taken from writer Sarah Dollard's episode 3, while the spiny space ship and the shot of Bill in a space suit come from episode 5, written by Jamie Mathieson, and, as predicted, the emoji robots will be thumbs up smiley facing Frank Cottrell-Boyce's episode 2.
The other screengrabs go on to confirm that David Suchet's character The Landlord will appear in Mike Bartlett's episode 4, and that Steven Moffat's mysterious monks will make their bow in episode 6 – the first three-parter to be written by three separate writers (namely Moffat, Peter Harness, and Toby Whithouse).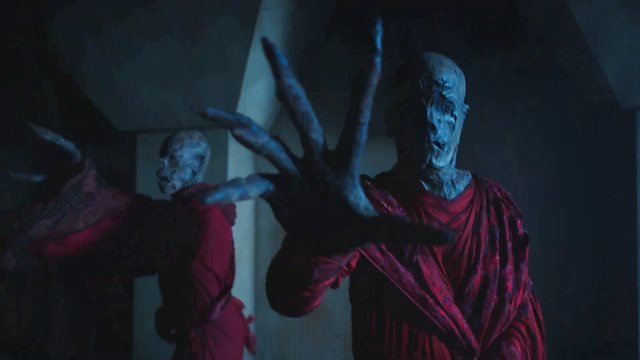 Then there's what appears to be the return of the sonic shades or, well, just some Ray-Bans and UNIT Soldiers, which are part of Peter Harness' middle entry of that triptych – perhaps representing another UNIT-centric episode after his two-parter, The Zygon Invasion/The Zygon Inversion.
Further on, the last two pics confirm that the Doctor and Bill's trip to Mars takes place in the Mark Gatiss-scripted episode 9, which promise us a new kind of Ice Warrior, while shots of the Doctor and Nardole (Matt Lucas) held at swordpoint are revealed to be the work of classic 1970s Who scribe Rona Munro, who is returning to the series to write the tenth episode of series 10, called The Eaters of Light.
Or, if you like to see your still images to move, how about watching the trailer…again.
Doctor Who will return on April 14th on BBC One.