Today is The Doctor Who Companion's first birthday – hooray! – so we thought we'd revisit a small selection of articles by our writers so far. This small sample takes into account the entirety of the show's history, and frankly, we're pretty proud of that.
Enjoy!
Now here's something really special: Tony Jones, writer of Short Trips: Rulebook narrated by Nicola Bryant (Peri Brown), explained the process of working for Big Finish, from pitching and outlining, to getting approval and drafting:
"Having struggled over the outline, I find the drafting a quick process. I first write without much review (except some spelling) and get the content down to about the correct length, turning the outline into prose sentence by sentence. I try to add descriptive language for as many senses as possible, and focus on a well-defined introduction. I already have a sense of who Peri is in my head from listening to several Big Finish audios and produce a rough first draft to order. I then file and forget it for a few days. I write with Microsoft word on either my Mac or desktop PC depending on where I am."
With the Mondasian Cybermen returning in the Series 10 finale, it seems the ideal time to revisit Jonathan Appleton's exploration of their origins, specifically the differences between the aliens in the script and as realised on screen:
"It's interesting to speculate on how different the programme's future would have been if something closer to Pedler and Davis's description had made it onto the screen. It could be argued that the Cybermen would have been more disturbing creations had they more closely resembled human beings and that, it opting for a more robotic-looking design, the show's production team moved away from the writers' intention to depict an unsettling future for mankind and towards a more standard sci-fi enemy."
In his exploration of fandom in its varied forms, James Baldock interviewed artist, Alicia Matheson; the pair spoke about how she got into painting, how it's helped her life, and her relationship with the show. Alicia said:
"A painting that might start off one way may develop into something else. It's a very malleable kind of creativity, a flow of imagination. I always have more than one idea waiting to be painted, so I keep them all on my desktop and paint whatever is most calling to me at the time. If I try to work on something just because it's been a while since I painted that particular person, I usually end up not being happy with it. I have to go with what my heart wants, even if that means five paintings of the same person in a row."
Whereas the stories of many are expanded in different formats, K9 is one of those rare companions whose further adventures beyond Doctor Who have been explored on screen. Simon Mills investigates, taking a tour of K9 & Company, The Sarah Jane Adventures, and the robot dog's very own Australia show:
"Another interesting side track in the televisual adventures of K9 was the ongoing saga of Bob Baker (K9's co-creator) and Paul Tams trying to get a K9 TV show into production for since 1997, originally touted as a four-part series called The Adventures of K9 with an alleged seven figure budget. However, it failed to get funding despite interest from the BBC in purchasing broadcasting rights. It remained in "development hell" for a number of years, until in 2006 Jetix Europe announced they were working with Baker and Tams in partnership with a London-based distributor named Park Entertainment to bring a 26-part series to our telly box screens."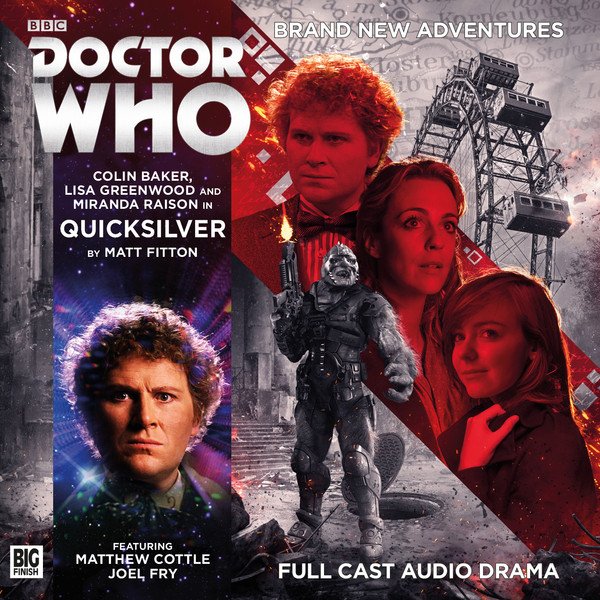 In his most recent (and very joyful) review, Mez Burdett finally found the joy between Colin Baker's Sixth Doctor and Miranda Raison's Constance Clarke:
"However, Quicksilver serves to bring Constance into the light as a more rounded and fully fledged TARDIS crew member. Oh, there's plenty going on here in terms of story what with warring alien factions bringing their fight to Earth, the Doctor on a countdown to save the day and lashings of betrayal and post war espionage taking place to pique the interest of the more casual listener, but for long term Big Finishers (you can be called that, it's okay) this is where Constance truly begins. Imagine the shift in attitude for Donna Noble's character between The Runaway Bride and Partners in Crime, we're finally getting someone worthy of the Doctor's time. A friend, more than just interested in seeing the Universe but in finally seeing the Doctor as well. It's refreshing, heartwarming and played magnificently by Miranda Raison."
You can find underrated serials in every series of Doctor Who, and Katie Gribble wanted to shine a light on a Series 4 story she loves revisiting:
"And naturally, Donna continues to ask the big questions about whether the Ood ever get a say in what happens to them or whether the people of Earth knew what was going on. The answer she gets to the final question is incredibly revealing and often pertinent to our society. The business representative answers Donna by saying that people already know or at least they don't ask, which in her opinion, is the same thing. It makes you wonder about the parallels that exist between this system, whether we look at the varying notions of slavery throughout history or its modern equivalents, and our everyday lives."
Peter Shaw's flick through Peter Haining's Doctor Who non-fiction title is a great piece in itself, but I had to include it here so I could regale to you one of the funniest notes he passed on afterwards (in a fit of lexicon regret): "Can we change the word 'anus' to 'bottom'?" And we did. But anyway:
"According to Haining, the book marked the fact that the Doctor had 'come of age', or the fact that Doctor Who: A Celebration had sold very well to shame-filled teen completists and they wanted an excuse to do one the next year and not wait a whole flippin' decade.
"It ends on March 22, 1984, when as Haining recounts, 'Colin Baker makes an eagerly and thankfully short-awaited first full appearance as the Sixth Doctor in the dramatic story, The Twin Dilemma…' How fortunate to end on such an absolute belter."
Talk about an impossible question! The actual specifics of the Doctor's regenerations are rather elusive, but Andy Reynolds nonetheless draws the curtain back to reveal what we do know and what we might infer from the show's narratives and parallels with real life:
"Then there's the 'Immortal Jellyfish' which isn't my dart playing handle and is in fact a creature capable of regenerating their entire bodies – although to paraphrase the Twelfth Doctor, if you take a broom, replace the head and then, over time, replace the handle, is it the same broom? – it's a philosophical question that doesn't really apply to us humans (because we're not brooms, you see), being as we cannot regenerate all of our cells.
"We partly regenerate all the time: scars, burns, sunburn, even our poor livers can regenerate from as little as a quarter of the remaining tissue."
Despite my initial scepticism, I was immensely proud of the festive fiction project that ran in December last year. And I was pretty happy with one of my submissions, featuring the Eleventh Doctor, Amy, and Rory, made better by editorial feedback from James Lomond and Andy Reynolds:
"Just before midnight, there was a wheezing, groaning noise echoing around the neighbourhood. Some might think Father Christmas had left the handbrake on, but Amy knew better, and ran to the garden, her nightie flailing around her. The blue box was a glorious sight against the snow."
Most of us at the DWC have a soft spot for the work of Nigel Kneale; in this fascinating piece about Quatermass, Simon Danes takes us on a journey to discover the various iterations of a legendary series:
"Like Doctor Who, Quatermass is a superb blend of horror and science-fiction. Unlike Doctor Who, it was made exclusively for an adult audience; it's therefore much darker, and it's therefore not just more frightening, but genuinely disturbing too.
"Quatermass exists in a number of forms: the three original television series from the 1950s (each one was called, in fact, 'A play for television in six parts'), the books, the films, the revival TV series from the 1970s, the radio series, and the BBC3 live broadcast of the remake of the first series. Professor Bernard Quatermass himself – author Nigel Kneale found the surname in the London telephone directory – has been played by almost as many actors as the Doctor: Reginald Tate, John Robinson, and Andre Morell in the originals; Brian Donlevy and Andrew Kier on film (Kier revived the role on radio); Sir John Mills in the '70s revival; and Jason Felmyng on BBC4."
Our very own Alasdair Shaw is writing a book, charting the various non-canon incarnations of the Doctor, and you can find his continuing journey on the DWC. It started back in April 2016:
"It is, in theory, going to be a guide to all the Doctors out there that haven't had top billing in the main series. We're talking about alternate Doctors – the Peter Cushings, Shalkas, Valeyards, and Watchers that are out there. I've been a fan of these kind of Doctors for a long time, ever since Battlefield in fact when the knights discussed a future incarnation of the Doctor that they knew as Merlin. But it was when I was browsing through a copy of The Gallifrey Chronicles by John Peel (not the DJ, despite what Amazon tells you; also, this book has the same title as the final BBC Books Eighth Doctor story from 2005 by Lance Parkin) that the obsession started to take hold.
"That was where I found the Valeyard.
"I wasn't quite old enough to remember much of Colin Baker's era with any great clarity and I only had a handful of Target novelizations to hand and none of them mentioned the Valeyard at all. So, you can imagine how shocked I was to discover this whole new version of the Doctor that I'd never heard of before."
Christian Cawley stuck his neck out on this potentially-divisive piece about his love of Doctor Who actually coming as a result of his affection for Tom Baker. He recalled the three times he'd encountered the great man, also noting:
"So, it always comes back to Tom, and I think it's probably because he was the Doctor when I first discovered Doctor Who. I've always admired the things he's done, whether they were my cup of tea or not. Perhaps most memorable was the urine-drinking Captain Rum in the Blackadder II episode "Potato", but my favourite non-Doctor Who appearances by Tom Baker were the ones which happened right here, in my own door of perception, through the window of my life."
Based on Steven Moffat's recollections of Colin Baker's Sixth Doctor, David Power encouraged readers to explore the parallels between that incarnation and the latest, played by Peter Capaldi:
"The transition in tone between the younger, more "family friendly" Fifth Doctor to the rougher edged Sixth Doctor, mirrors the transition in tone between the Eleventh and Twelfth.
"It's interesting to see how these jarring changes in the feel of both the show and the character of the Doctor was received in the '80s compared to now. While some people nowadays were thrown off by the sudden difference, it seems that, as a whole, most people have embraced this ruder incarnation of the Doctor, which was not really the case in the 1980s."
While we're used to vast swathes of merchandise throughout the year, Jonathan Appleton uncovered the contemporary memorabilia from Patrick Troughton's time in the TARDIS, and showed readers how truly lucky we are now:
"Troughton's Doctor enjoyed relatively frequent high-profile exposure in the BBC's listings magazine Radio Times with three cover features during his tenure (although only one of these depicted him). Copies are likely to be listed with the heading 'giga-rare' (and have a price tag to match) should you come across them on eBay, although a more affordable option if you want a memento of these and other vintage Doctor Who covers is to track down the two sets of postcards given away with the magazine in 2013 (I can speak from experience in saying they look terrific in a frame on the kitchen wall…)."
Some of our favourite Titan Comics covers have been provided by Simon Myers, whose work often riffs off classic albums; last year, Andy Reynolds spoke to the artist about his relationship with the show and how he created his pieces:
"Artistically speaking I love the comic book artwork of Chris Bachalo, Stuart Immonen, Adam Hughes and Olivier Coipel to name but a few. But I think the biggest influence on my work is Phil Noto. Though that may lie in the fact that I have seen him quote similar influences to my own, specifically Robert McGinnis (the artist of many a 60s/70s Bond Posters)."
Doctor Who is a very joyful show, full of hope, and encompassing the entire universe and sometimes beyond. This optimistic nature is reflected in Richard Forbes' piece musing about whether the show might soon be filmed in his home country:
"Shooting Doctor Who in Toronto in October would suggest a 'party' of sorts. You see, most of the main characters of Steven Moffat's era as showrunner are played by actors and actresses living and/or working in Canada or in North America – and Series 10 is, of course, Steven Moffat's final series as showrunner. Shooting Doctor Who in Toronto would accommodate any number of these performers in a central location.
"Alex Kingston (River Song) is wrapping up filming the CBC's Shoot the Messenger in Toronto, Arthur Darvill (Rory Williams), and John Barrowman (Jack Harkness) shoot Legends of Tomorrow and Arrow respectively in Vancouver, Michelle Gomez (Missy) films Gotham in New York City, Karen Gillan (Amy Pond) works out of LA."
On its 50th anniversary, The Power of the Daleks was back – ish. Sure, it was in animated form, but it was flippin' brilliant; James Lomond was especially excited and represented the DWC at its official press preview:
"One thing that certainly works very well is the animation of the Daleks and discussion turned to whether other stories including the large number of lost Dalek episodes (The Dalek Master Plan and Evil of the Daleks) might get a re-animation next. The team couldn't comment on any plans and everything very much depends on the success of Power. The Crusade was discussed; though [lead animator, Charles] Norton noted that while there are only two of four episodes missing, with 24 speaking characters and numerous costume changes, it poses a significant challenge to an animator."
With only one episode of Doctor Who screened in 2016, it didn't give us much chance to properly review any new TV stories. I somehow became lucky enough to be the reviewer of that Christmas special:
"Lucy [Charity Wakefield] is an interesting one. She's certainly cut from the same cloth as previous characters: a touch of River Song, a dash of Madame Vastra, a smidgen of Liz Ten, even. But I maintain she's companion material. I like her fieriness, how clever and intuitive she is, and how she handles small, important, quiet moments. There's a strength to her – perhaps born from looking after a baby on her own, while also juggling a career, in an alien-infested city that never sleeps – but also a contemplative calmness; as an investigative journalist, we can naturally draw some comparisons with Sarah Jane Smith…"
As part of our festive fiction project, Matt Badham brought to the table a Dalek story mixed with a murder mystery reminiscent of Agatha Christie:
"His crew glanced at each other furtively, perhaps wondering if the isolation of deep space had sent Travis over the edge. Then their fears rushed to the surface, voices colliding in a great babbling mess. "The Daleks…" Travis roared, before continuing in a more measured way, "…have taken everything from us. Our homes, our families and any semblance of a normal life. And they're not having Christmas too.""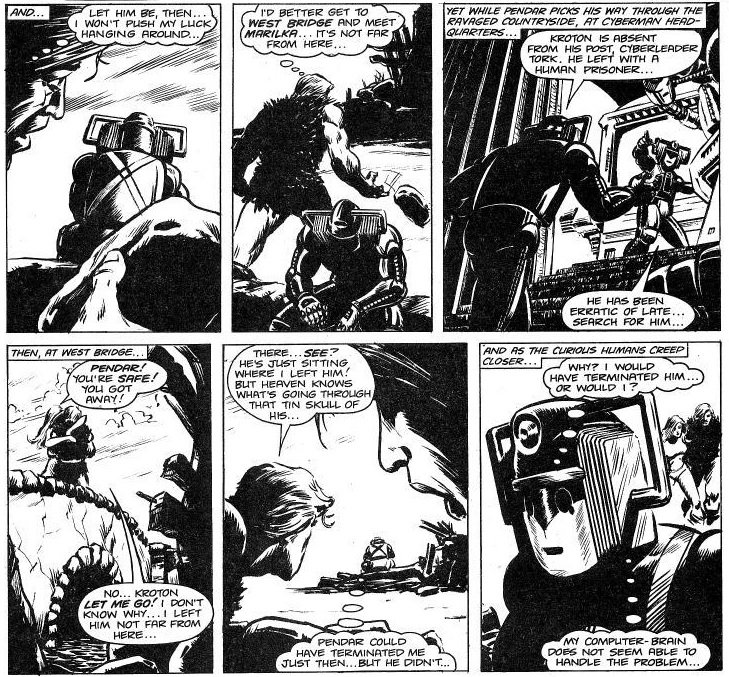 Following the shocking passing of artist, Steve Dillon, Leon Hewitt wanted to praise a classic Doctor Who comic, which introduced a unique creature – Kroton, a Cyberman with emotions:
"What makes this story fascinating is watching Kroton learn about emotions. After pondering the strength and honour exhibited by Willoway during the interrogation and the fear displayed by the other freedom fighters he meets Zarach, a human who is more than happy to inform on the resistance. Portrayed as a typical sleazy businessman, Zarach is more than happy to reveal where the next attacks will be, for the right payment of course. Kroton is puzzled why he should do this. Why does he not feel like the others? "I'm like you…" comes the reply, "No feelings at all!""
I'd never really thought about a time when fans weren't aware of the huge number of episodes missing from the BBC archives. That's why I found Jonathan Appleton's piece about DWM's announcing this fact so incredibly fascinating:
"The information is presented rather starkly in a one-page list which gives chapter and verse on the status of what was left in the archives and what was gone (although DWM later issued a correction to the list, using Matrix Data Bank – a very handy Q&A feature in the pre-internet era – to tell readers that Wheel in Space Part Six did exist but The Invasion Part Four didn't). Many long-term fans can recall to this day their sense of shock when they first learned that a whopping 136 episodes (roughly a quarter of the total number transmitted up to that date) were missing. Classic stories from the show's early years were gone in their entirety and just the odd episode or two was left from many others. Even the colour era hadn't escaped the purge, with several Jon Pertwee episodes stored only in black and white and Part One of Invasion of the Dinosaurs unfairly singled out and falling victim to a mistaken dumping."
After a brief time away from writing, Nick Kitchen returned to the fold with this lovely news piece that also gave him the chance to reflect on Peter Capaldi's tenure as the Twelfth Doctor, and what the upcoming series may bring:
"I would be remiss if I didn't confess that Capaldi's turn as the Doctor hasn't captivated me the way the Moffat-Smith era did. That isn't to doubt or throw shade on Capaldi's immense talent in any way. When the writing is spot on, Capaldi is a force to be reckoned with and as much the Doctor as any of his predecessors. And often to my detriment, I have long been a fan and defender of Steven Moffat. Thus, to sum it up most concisely, I'm hopeful for a run that reminds me why I've been so hopelessly devoted to Doctor Who and learns from the missteps of Series 8 and Series 9."
We like to celebrate the varied ways fandom expresses itself, and we asked Billy Garratt-John to talk about being a YouTuber and the potential problems that ensue:
"There's also plenty of infighting to be aware of. Recently, I uploaded a video which was half p*$$take, half genuine deconstruction of the recent Classmates strand on the Doctor Who YouTube channel (which involved the cast of Doctor Who spin-off, Class talking about the show's fans). I'll spare you the messy details because I've covered it enough elsewhere, but it led to a lot of explaining, some apologising, and a suspected bot attack against my channel. I still stand by every word I said, but it made me realise exactly how many people watch me. I finally woke up to the responsibility content creators have towards their audience. People come to my videos because they want to hear MY opinion on things. Now, although it may not come across this way, I am a very modest person (I'm so modest in fact that saying how modest I am makes me feel like I'm bragging). I cannot imagine anyone listening to a word I say and taking it seriously. But, either through some subliminal charisma that I exude or through some mass brain injuries affecting my entire subscriber base, people actually come to my channel to hear what I have to say. My brand of comedy might cross people's wires now and again and that's something I need to be aware of; many people took my Classmates rip-off seriously, and some of the Classmates themselves took it as a personal attack, which was far from my intention."
As an underrated book range, a themed week celebrating Christopher Eccleston's Ninth Doctor gave Jeremy Remy chance to look back at the 2005 novels, ranking the six releases and finding something great about each of them:
"The Stealers of Dreams is the second novel to feel as if it has found a way to truly embrace the shorter, all-ages format. Figuring out the overarching mystery is part of the fun, but the story holds up to a reread. In fact, knowledge of what's to come only seems to make a second read-through more fulfilling, as it offers a chance to see the structure of the narrative and the subtle clues missed during the first reading. The three protagonists are each given their own unique sections of the story, before bringing them together for the fulfilling conclusion."
Following the shocking passing of John Hurt, James Baldock revisited a haunting classic and its 2010 remake, the latter starring Hurt and adapted by Hide's Neil Cross:
"But there's nothing like a good ghost story for a cold winter's night, and one of my personal favourites happens to star John Hurt. It is a fresh adaptation of medieval historian M.R. James' short story about (in the words of Jonathan Miller) 'the dangers of intellectual pride'. Visiting the windswept Suffolk coast, an arrogant, strictly existential archaeology professor stumbles across a mysterious whistle that apparently summons the dead, causing him to re-appraise his view of humanity – and reducing him, in the story's final scenes, to a gibbering wreck."
As a big fan of the great Hitchhiker's Guide to the Galaxy scribe, Peter Shaw wanted to do Douglas Adams justice. In this barmy piece, he beautifully creates a work that I think Adams would've been proud of:
"So humans were content simply 'to be'. And that state of blissful contentment would last for between 7- and 28-minutes every day depending on how many times they bashed the snooze buttons on their digital clock radios, before deeming that the necessity of being in bed for 7 more minutes was overruled by the necessity of being out of bed and doing something, if not 'useful', then at least something 'else'."
It was the news the DWC never wanted to have published: the death of a Doctor. John Hurt passed away in January 2016, but we wanted to celebrate his life, leading to a week of articles about his varied career. This gave me a chance to write about something I've wanted to talk about for a while – how TV is more important to children and so shouldn't be dumbed down:
"Most childhood memories of Watership Down will recall how harrowing it is, just as recollections of Doctor Who will likely feature either hiding behind settees or otherwise fearing the Daleks/Autons/ Weeping Angels/Insert Monster Here. Similarly, there are forever calls that the two are too adult for young viewers and readers. And that's exactly how it should be.
"This is the important thing about Watership Down and Doctor Who: they don't patronise children. It's something society as a whole should learn from (but sadly never will)."
As the publication celebrated 500 issues, the DWC turned its gaze on Doctor Who Magazine. With so many issues released, we challenge Mez Burdett to narrow it down to just 10 essentials. He rose to said challenge, writing of #305:
"A glorious tribute to The New Adventures and one of the best DWM covers of all time. This was the Doctor of the 1990s! David J Howe looks at the Virgin New Adventures from their very beginning here as well as listing the stories in full; he provides a tremendous read including some input from one Russell T. Davies. No, we've never heard of him either. Gareth Roberts helps the celebrations by providing a sublime one off comic strip."
It's especially interesting to look back at previous regenerations, knowing another is just around the corner. Andy Reynolds investigated how the longest-running Doctor (so far!) got that coveted role as the Fourth Doctor:
"Terribly out of work and supplementing his income between acting jobs, Thomas Stewart Baker wrote a pleading letter to William Slater in February 1974 looking for a part. The contents of that letter remain somewhat elusive, as they should. The date in which it was sent to seems to have been mislaid. Baker himself said he posted it on a Monday.
"The only certainty to come from that correspondence is that on 15th February 1974, the virtually unknown but vastly experienced actor Tom Baker was cast as the Doctor."
Phew! One whole year. It's been quite a ride, and rest assured, we're not slowing down. If you missed out on Parts One and Two, don't forget to check them out. And watch us run.