BAFTA nominated filmmaker Ryan Hendrick has often called upon the great and good (and Scottish) of the Doctor Who family to help tell his stories and now, he needs you to help bring to life his latest endeavour.
Sundown sees two former Doctor Who companions, Frazer Hines (who played Second Doctor companion, Jamie McCrimmon) and Caitlin Blackwood (who played the young version of Eleventh Doctor companion, Amy Pond), unite to tell the story of William, a man in his 70s who is taken on "a timeless journey" through the eyes of Blackwood's Abi to come to terms with his own mortality.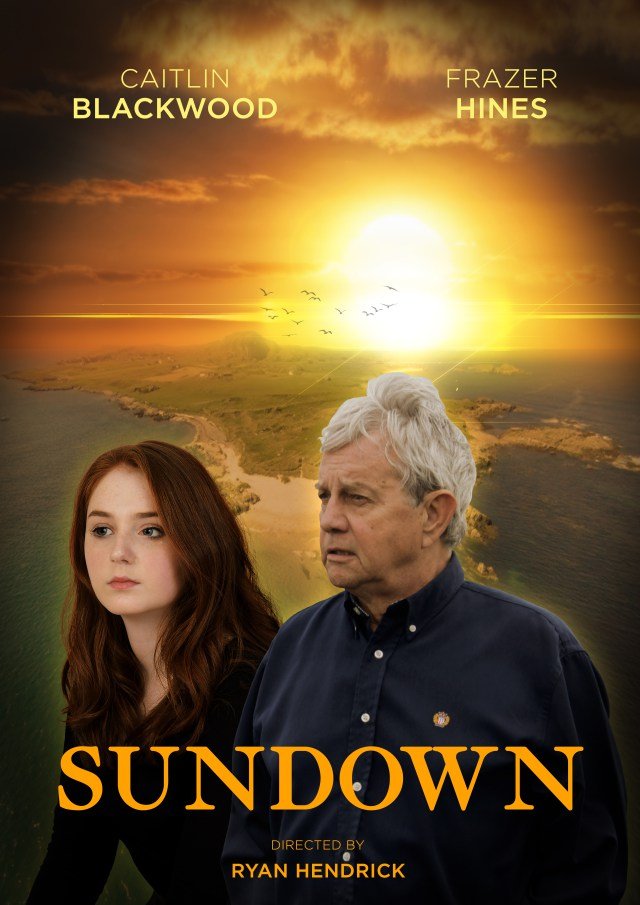 The film marks the third venture of screen writing venture between Hendrick and writing partner Clare Sheppard.
Their last collaboration, Perfect Strangers, was selected to play at 18 film festivals across the world, winning three awards and receiving a further four nominations, including a BAFTA Scotland nomination for Clare Sheerin in the best actress category.
Their second venture is an upcoming Scottish Highlands-set road movie, Journey Bound, starring Ford Kiernan, Clare Grogan, the Seventh Doctor Sylvester McCoy, James Kirk, and Blackwood.
Looking to build upon the success of Perfect Strangers, Hendrick has decided to forgo the minefield that is independent film financing for Sundown and turn to you, fans of both Doctor Who and short film aficionados, to finance Sundown via Indiegogo.
We caught up with Hendrick to talk companions, writing with 'kid gloves', and the nature of crowdfunding short films.
DWC: Hi Ryan! Was casting two past companions deliberate?
Surprisingly no. I did want to cast two well-known actors but to keep it within or close to the Journey Bound family as I could. I wrote the character Abi specifically for Caitlin. Frazer is a mate and he just happened to be right for the character he plays but I didn't set out to cast companions, just an extra cherry on the cake.
DWC: That makes sense; I was just wondering after Sylvester McCoy was cast in Journey Bound.
We're just lucky in Scotland that most of our talented actors end up in Doctor Who at some point
DWC: Very true. So, are you able to tell us a little about what Sundown is about?
Sundown tells the story of William, a man in his 70s trying to come to terms with being diagnosed with a hereditary terminal illness. He embarks on a timeless journey through the eyes of Abigail, a young woman with the same condition who has already accepted her fate. This story is about how a person's perception of life and the world around them changes once they truly come to terms and accept their own mortality.
DWC: Sounds like it's going to pack quite an emotional punch. Was it a difficult script to put together?
Toughest script I've ever sat down to write. I've picked it up and put it down several times over the years and it had different forms and characters. Eventually when Clare and I sat down and looked at it together we found the right direction to go in. You're talking about a subject matter that in a way defies definition. Every person's experience and understanding is different and unique. Somehow, we as writers need to acknowledge that, that's tricky.
DWC: And especially important given the subject matter.
Exactly, kid gloves.
DWC: How far into the whole process are you just now?
The script is locked, the filming dates are locked, just going through the logistics, finding crew, raising the cash to go and do it.
DWC: Which you're doing through crowd funding, so why did you decide to raise the money this way?
Funding programs for short films are few and far between and in great demand. Up to this point all our films, Besieged, Perfect Strangers, etc…have all been self-funded, and counting on everyone doing it for the love and unpaid. Perfect Strangers is the pinnacle of what can be achieved with that approach. We need to take the big leap with Sundown and achieve something bigger and better and to do that we need to raise a budget to access better resources. Plus the unique location for this film is incredibly remote. To do all this at this level is going to be next to impossible without some financial assistance. Crowd funding gives a unique opportunity to both the filmmakers and the backers to work together where everyone is rewarded in a way they chose for contributing. With investment schemes, they risk films not making a return on investment, and with short film that is next to impossible.
DWC: Speaking of rewards, what can our readers expect for backing Sundown?
We've put together a variety of unique perks and rewards that we think will appeal. People can choose a simply 'thank you' on our end credits; a copy of the script, signed by Caitlin, Frazer, Clare and myself; signed posters; DVDs, and Blu-rays. There are also very limited perks such as attending VIP screening of the film to meets the cast and crew and other special guests. Not to mention the option to become an associate of executive producer of the film.
DWC: So, continuity time. Is this set in the Perfect Strangers universe?
I suppose so. I hadn't thought about an inclusive universe for my shorts. I do have an unspoken plan to litter my features with very subtle hints that they all exist in the one universe. But if you're hoping to see Rob and Jen reuniting in the background somewhere, then no.
DWC: I'd be quite upset if they did; I loved how you left them at the end of Perfect Strangers. And whilst we're in universe; readers from our time at Kasterborous might be wondering how Journey Bound is progressing?
Journey Bound is taking longer than we had expected, but things are progressing well. In fact, we're in the middle of organising a rather MASSIVE announcement.
But that will have to wait for another day…
Thank you very much Ryan!
If you're interested in helping Ryan out, you've got less than seven days left to back his Indiegogo campaign.