It's shaping up to be a busy old Winter for the First Doctor.
There's this year's Christmas special, Twice Upon a Time, which sees David Bradley reprise his role as the First Doctor, who he played as William Hartnell in 2013's docudrama about the genesis of Doctor Who, An Adventure in Space and Time, and now there's Big Finish's The First Doctor Adventures – which sees the return of a familiar but new TARDIS crew.
Joining Bradley will be the TARDIS team of An Adventure in Space and Time which comprises of Susan, played by Claudia Grant, Barbara, played by Jemma Powell and Ian, played by Jamie Glover in two new adventures due to arrive January 2018.
The synopsis for the two adventures read:
The Destination Wars by Matt Fitton
The TARDIS arrives in a gleaming utopia in the Space Year 2003. Has the Doctor truly brought Ian and Barbara home, to glimpse their future?
The world owes much to its legendary Inventor, and Susan finds herself face to face with the great benefactor.
But soon, the time travellers are in a world at war and the Doctor must confront his past.
The Great White Hurricane by Guy Adams
Rival gangs turn streets into battlegrounds, and the Doctor and his friends are caught in the crossfire. They find themselves separated, and lost in the cold.
As the hunt for a fugitive turns ever more desperate, a blizzard descends. The snow keeps falling. And soon it will prove as deadly as any weapon.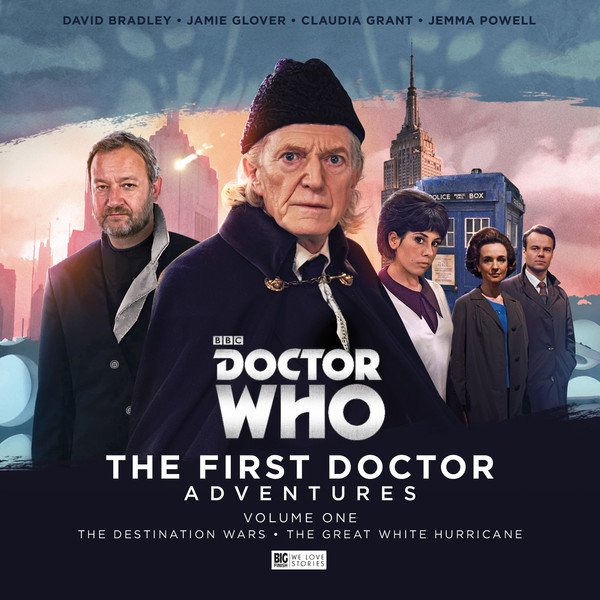 Writer Matt Fitton said:
"The adventures of the First Doctor are all about discovery finding out what this infinite universe contains, and who his fellow travellers are. As we journey with Ian, Barbara, Susan and the mysterious Doctor, we come to see what they are capable of when confronted with the strange, the unjust, and the dangerous."  
The second of the new adventures also harks back to the origins of Doctor Who with a historical tale peppered with a few futuristic flourishes.
Writer Guy Adams talks about sending the TARDIS back to our past in The Great White Hurricane:
"The Great Blizzard of 1888 was a historical event I've always wanted to write about. One of the most severe blizzards ever recorded, a terrifying wave of wind and snow and ice that brought New York to a standstill (and not just New York, it moved across a huge chunk of the east coast). It killed hundreds of people and trapped countless more as the world around them became lethal. To drop the Doctor and his travelling companions into that – and gang warfare too – was too rich a mix to ignore."
The First Doctor Adventures is available to pre-order now from Big Finish for release in January 2018 on CD or Download for £23 or £20 respectively.