One of the more noteworthy ways in which the Doctor Who universe has expanded in recent years has been the gathering of best-selling authors who have put pen to paper to give their take on the series in print. It seems there's no end to the list of successful writers who clearly harbour fond memories of the programme and are only too happy to create a story for their favourite TARDIS crew, whichever era that may be.
Perhaps it's something to do with the show now having been around for so long that people under a certain age have grown up with it, but it's a development that would have been unthinkable in the classic era (although I like to think that there's a parallel universe where the likes of Frederick Forsyth, Barbara Cartland, and Harold Robbins gave their take on, say, Hinchcliffe-era gothic horror or late '70s Williams/Adams vintage whimsy).
People who have worked on Doctor Who often comment afterwards on what a difficult format it is to write successfully for and it's fair to say that, just because someone has a string of top credits to their name, it doesn't necessarily follow that they'll turn out Gallifreyan gold when it's their turn to put words in the Doctor's mouth (ahem, In the Forest of the Night, clears throat…).
So join us as we present the DWC's guide to those top well-known authors who have written Doctor Who books!
ALASTAIR REYNOLDS
A proper big name in British science fiction, Reynolds has a huge back catalogue of novels, novellas, and short stories. With the Revelation in Space and Poseidon's Children series to his name as well as standalone titles such as Century Rain and House of Suns, Reynolds has a reputation for hard science fiction, but that didn't stop him producing Harvest of Time, a novel featuring the Third Doctor complete with UNIT back-up.
Well received on its publication in 2013, the book was said to capture that early 1970s feel (complete with dastardly plan from the Master) extremely successfully.
MARK GATISS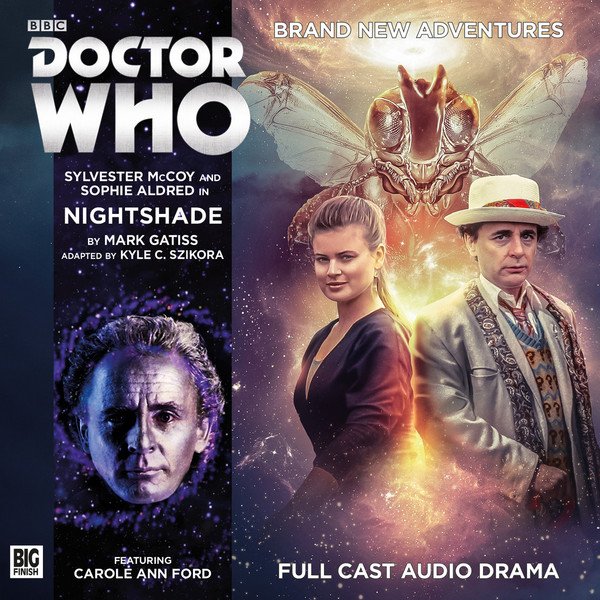 It's worth remembering that, long before becoming one of the driving forces on Sherlock and his regular appearances in the Doctor Who credits – even before he and his League of Gentlemen colleagues were sending viewers to bed with some extremely disturbing images in their heads – Gatiss was strapped for cash, hoping against hope that his Doctor Who novels would be accepted to help him pay the rent.
Perhaps best remembered of these is the New Adventures' atmospheric Nightshade from 1992 (subsequently made into a Big Finish audio) which sees creatures from a Quatermass-inspired series somehow coming to life in late 1960s Britain.
RUSSELL T DAVIES
Okay, okay, RTD is, of course, much better known as a screen writer rather than a published author – but it's worth casting your mind back to late 2003 when, with the return of Doctor Who just announced, fans were virtually trampling over each other to get hold of copies of his sole New Adventures effort, Damaged Goods, so desperate were they to pick up clues was to what to expect from the series with the big Welshman at the helm.
And don't forget The Writer's Tale, which brought together his lengthy correspondence with Ben Cook to produce surely the most revealing behind-the-scenes Doctor Who book ever, one which showed Davies to be a much more complex, often melancholy figure than the cheerful, cheeky character we regularly saw promoting the series.
PAUL CORNELL
Another name from the New Adventures era, a good case can be made for naming his Human Nature as the most influential title to be published during all those years when the programme was off our screens. An examination of what happens when a Time Lord gives up the very thing which makes him what he is, the story would later be turned into a two-part classic for David Tennant's Tenth Doctor, full of loss, longing, and characters unable to say who they really were or how they truly felt (I'm welling up just thinking of it…).
Cornell currently divides his time between writing highly regarded comic titles such as Wolverine and his Shadow Police urban fantasy series of novels. High time this guy got to have another go at a Doctor Who script…
EOIN COLFER
A former primary school teacher, now best known for his sell-em-by-the-truckload Artemis Fowl books, Colfer gave his take on the First Doctor in A Big Hand for the Doctor, the first of the 50th anniversary series of short stories first published as an ebook but later released in the Eleven Doctors, Eleven Stories collection.
Said by SFX to be "like an anime adaptation of the First Doctor's era, hyper-paced, action-packed, but very funny", Colfer's contribution was felt by reviewers to be one of the better attempts in a not entirely successful range which saw big name writers penning a story for each of the Doctor's incarnations in his special birthday year.
MICHAEL MOORCOCK
Moorcock is one of the truly monumental beasts of sci-fi, hailed in 2008 by The Times as one of the 50 greatest British writers since 1945. He started writing as a teenager in the 1950s and has won a host of honours and awards over the years. His most popular works are probably the Elric of Melnibone series, which presents an anti-hero who contrasts with the tropes of fantasy fiction's many clichés.
When it was announced that Moorcock would be writing The Coming of the Terraphiles, an Eleventh Doctor and Amy Pond novel published in 2010, it was one of the first indications that writing Doctor Who books was now open to some very big literary names indeed.
STEPHEN BAXTER
Just about the biggest name in British sci-fi for a decade or more now, Baxter has done it all: hard SF, future history, alternate history, even sequels to The Time Machine and The War of the Worlds. Another writer with a mantelpiece groaning under the weight of his awards, since 2010 he produced a series of collaborations with the late, great Terry Pratchett.
His Doctor Who contribution was 2012's The Wheel of Ice, a Second Doctor, Jamie, and Zoe story which saw a mining colony plagued by problems with strange creatures. The Doctor and his friends uncover a mystery which goes right back to the creation of the solar system…
JENNY COLGAN
A writer of popular romantic comedy fiction, Colgan's titles include Amanda's Wedding, Sixteen Again, and Operation Sunshine, so it may not seem that she'd be the most obvious candidate for writing duties for Doctor Who. But, in fact, she admits she badgered BBC Books to get the gig and, writing as JT Colgan, produced the full-length novel, Dark Horizons, and the Time Trips short, Into the Nowhere, both featuring Matt Smith's Doctor.
Since then, she's written further short stories and numerous audio adventures for Big Finish.
Such is her love of the show, she even posed for a photo shoot with a Cyberman wearing a very stylish TARDIS-themed top (Jenny, not the Cyberman). We like your style, Jenny.
JOANNE HARRIS
Another name that may surprise some, the former modern languages teacher had her breakout hit with Chocolat, the novel later filmed starring Johnny Depp and Juliette Binoche which was responsible for legions of holiday makers over-eating on trips to France.
Her Time Trips installment, The Loneliness of the Long-Distance Time Traveller displays an impressive grasp of Doctor Who continuity, set as it is in the gap between the Third Doctor receiving that fatal dose of radiation on Metebelis 3 and his return to the home counties to collapse on the floor of his UNIT lab. Doctor Who Magazine described it as 'truly exceptional'.
BEN AARONOVITCH
One of that generation of young writers who gave the programme a much needed shot in the arm in the late 1980s, Aaronovitch novelised his stand-out classic Remembrance of the Daleks and would go on to pen three New Adventures novels, one of which was co-written with Kate Orman.
A period writing scripts for cheap sci-fi soap, Jupiter Moon was followed by some rather lean years during which he worked in a book shop and concluded that writing original novels was the way to go. In recent years, he's had a big hit with his Rivers of London novels, novellas, and comics (the latter co-written by Doctor Who producer, Andrew Cartmel) which features Peter Grant, London police officer and trainee wizard.
That's our list – but what do you think? Which authors have impressed you with their Doctor Who books? Give us your nominations below!
(Thanks to Novelicious Picks.)
(Adapted from an article originally published on Kasterborous in 2014.)