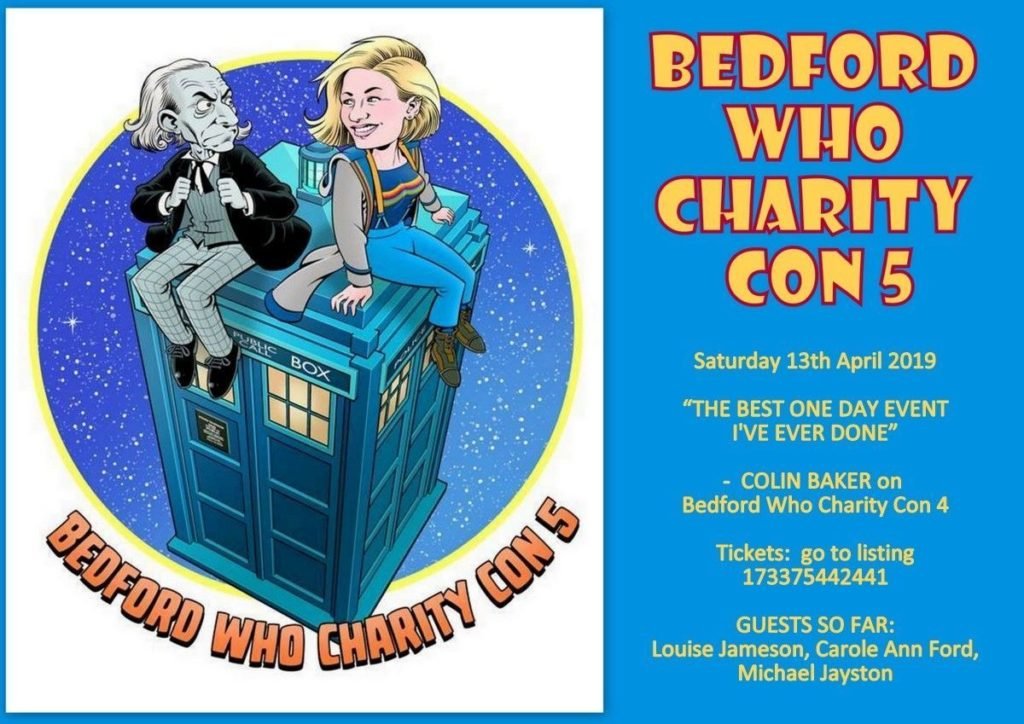 The Bedford Doctor Who Charity Con is celebrating a huge achievement this weekend – raising an amazing £8,062 for their local foodbank. And since its organiser is none other than the Companion's very own Simon Danes, we're celebrating, too!
This was the fifth Bedford Con and took place at the University Theatre, with 200 people attending from all over the country (as well as Germany and Northern Ireland). Guests included Seventh Doctor, Sylvester McCoy; Sophie Aldred (Ace); Louise Jameson (Leela); Janet Fielding (Tegan); and Carol Ann Ford (Susan). There was also an appearance from BAFTA award-winning special effects designer, Mike Tucker.
The day featured the customary interviews, autographs, and photo sessions, plus a popular Bedford Con feature: comedy sketches performed by the actors. In the past, these have included 'Colin Baker and a Dalek' and 'The Master in the Psychiatrist's Chair' (which starred Maureen O'Brien and third Master, Geoffrey Beevers).
As well as organising the Bedford Con, our Simon is a trustee of the local Foodbank and its main fundraiser. At the DWC, we're all very proud of his splendid achievement. Every month, the Foodbank provides vital emergency food to 600 children and adults local to Bedford. As Simon said,
"We were really pleased with the day. The guests were absolutely marvellous and enormously gracious to the fans who were made to feel really special. We couldn't have asked for more. And raising over £8,000 is flabbergasting. We received some very generous sponsorship from local businesses and agencies, but we couldn't have done it without the guests."
And Simon already has the Doctor's seal of approval: Colin Baker declared last year's Con "The best one day event I've ever done."
From everyone at theDoctor Who Companion, congratulations Simon  ̶  and here's to making it £10,000, next year.