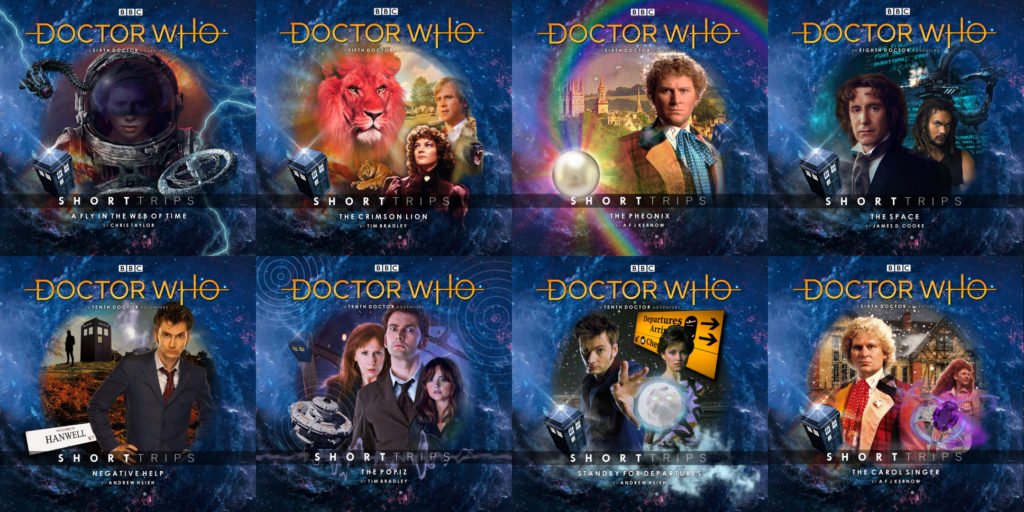 From Divergent Wordsmiths (in association with Not The Big Finish Forum) comes The Paul Spragg ReCollections, an unofficial anthology compiling eight non-winning Short Trips, including two I have written, originally submitted to the Big Finish competition.
Dedicated to all who have entered since 2016, including the winners, runners-up, and Paul Spragg himself, we are proud to have given as many writers the opportunity to (re)submit and write their stories in full. And we hope to do so again.
Here's the blurb:
"Celebrating 20 years of DOCTOR WHO at BIG FINISH, writers and editors from the world over have banded together to commemorate and celebrate Paul Spragg's contributions to a show that means so much to all of us. Experience 8 astounding stories from Time's great weave of ghosts meeting on opposite ends of history, desperate runaways far from home, old friends rooming in unfamiliar spaces, new friends struggling through troubled climes, and whole worlds hidden behind a knock at the door."
Opening the anthology is an exclusive Introduction by Ian Atkins, former Short Trips range producer, with special thanks to Tony Jones.
Now the blurbs for each story (in running order):
A FLY IN THE WEB OF TIME (Chris Taylor) – Happenstance or fate? Amara is one of the bystanders affected by the Sixth Doctor's adventures.
THE CRIMSON LION (Tim Bradley) – Animal attacks in the Longleat Safari Park spur the Fifth Doctor, Nyssa, and Tegan on the trail of an unusual predator.
THE PHOENIX (A F J Kernow) – The Sixth Doctor and an elderly schoolteacher investigate a strange pod in Oxfordshire glowing various colours of the rainbow like a pearl.
THE SPACE (James D. Cooke) – The Eighth Doctor and Mech (a Jason Momoa-looking bloke) attempt to avert the destruction of a space station.
NEGATIVE HELP (Andrew Hsieh) – Struggling to cope with his father's ill health, Andrew becomes the target of an adversary pursued by the Tenth Doctor.
THE POPIZ (Tim Bradley) – A killer hit single threatens to annihilate the Tenth Doctor, Donna, and an unusual woman known as Clara.
STANDBY FOR DEPARTURES (Andrew Hsieh) – Tegan Jovanka was expecting a quiet Christmas in Heathrow Airport. She should have known better.
THE CAROL SINGER (A F J Kernow) – The Sixth Doctor, Mel, and the 40-year-old Carol Singer investigate an old house connected to a ring with a purple gemstone she wears.
And finally, an Appendix consisting of synopses and opening extracts for each story, to coincide with Big Finish's tradition of releasing each winner's original entries and scripts. It aims to help develop your writing skills and inspiration.
Edited by Alan Camlann and, yours truly, Andrew Hsieh, with cover artwork and inserts by Phil Johnson. The Paul Spragg ReCollections is now available to download for free (in PDF).
In the meantime, you can also download The Meaning of Big Finish, plus two other unofficial anthologies, Unbound Imaginings and Genesis of Terror.
And if you have an entry previously submitted to Big Finish, feel free to check out Divergent Wordsmiths' submission guidelines!