With Titan Comics having wrapped up their first year of adventures for the Thirteenth Doctor and her companions, Ryan, Graham, and Yaz, plans are now in motion for what promises to be an exciting second year, an arc which will open with Jodie Whittaker's Doctor and the gang meeting the Tenth Doctor and Martha Jones – and coming face-to-face with the Weeping Angels. However, as always with Titan, there comes a little breather in the form of their Holiday Special. And this two-part adventure from writer, Jodie Houser and artist, Roberta Ingranata promises a lot of festive trouble for the Thirteenth Doctor and her friends.
The book opens with the crew enjoying some downtime inside the TARDIS and talking about where they would like to go over Christmas. As always they have different ideas. Graham wants to attend a Christmas dinner, while Ryan wants to go to an outer-space Disney Land.
However, it is that request which sparks the first problem for the TARDIS crew as they have different memories of what happened the last time they went to a theme park. Graham was teleported away, Ryan was stuck in a real haunted house, Yaz was poisoned and nearly died, and the Doctor was put into a gladiatorial game. With none of them able to remember the true events, the Doctor decides to take them back to piece together the real events.
As always, and what I've been really impressed with over the course of the previous Thirteenth Doctor comics, is the artwork which is simply stunning. I've been a comic book reader for many, many years and no matter how good the writing might be, I can't get into a comic if the artwork is confusing and distracting. I've skipped entire runs on comics like The Amazing Spider-Man and Wolverine and the X-Men because I found the respective artwork from Humberto Ramos and Chris Bachalo too difficult to follow.
Here though, Roberta does some stellar work. I've always liked the interior of this TARDIS in comic book form and remember being stunned when I saw it in the pages of issue #1, a far cry from my reaction to it when I saw it in The Ghost Monument. While there is no getting around the fact that it still looks cramped, the stunning vibrancy of the colours from Enrica Eren Angiolini actually made me reconsider my initial criticism. And it goes to show that when the set is a little brighter, it does make this interior look an awful lot better!
Roberta Ingranata also has the likeness of the characters down to a tee. It's brilliant to see Jodie Whittaker, Mandip Gill, Tosin Cole, and Bradley Walsh brought to life here. Bradley Walsh in particular is a treat because he looks just like his real-life counterpart and one wonders if it's fulfilling some boyhood fantasy of his to see himself in such a form! I can't put into words how much I love Ingranata's work, not just here but in the previous issues.
Houser brings the TARDIS to a world that invokes a lot of different Christmas items. The surface of the planet reminded me of gingerbread while the city or town looked like a diorama ornament you can get as Christmas decorations. There, we get our second hint at a mystery as the Doctor is told she caused enough trouble the last time. Of course, telling the Doctor something like that isn't going to discourage her from seeking the truth so she holds firm and is eventually invited into the house of Friffle.
Houser and Ingranata give us an amusing little sequence which shows the crew trying to squeeze themselves in through the small door of the house which belongs to the elfin creature. I need to congratulate Jodie Houser on her writing for the series so far, as she has captured the voices and mannerisms of the characters perfectly. So perfectly, in fact, that you have to wonder if these aren't adaptations of lost adventures. You can so clearly hear Whittaker, Walsh, Gill, and Cole delivering these lines and performing these scenes. Houser should be very proud indeed.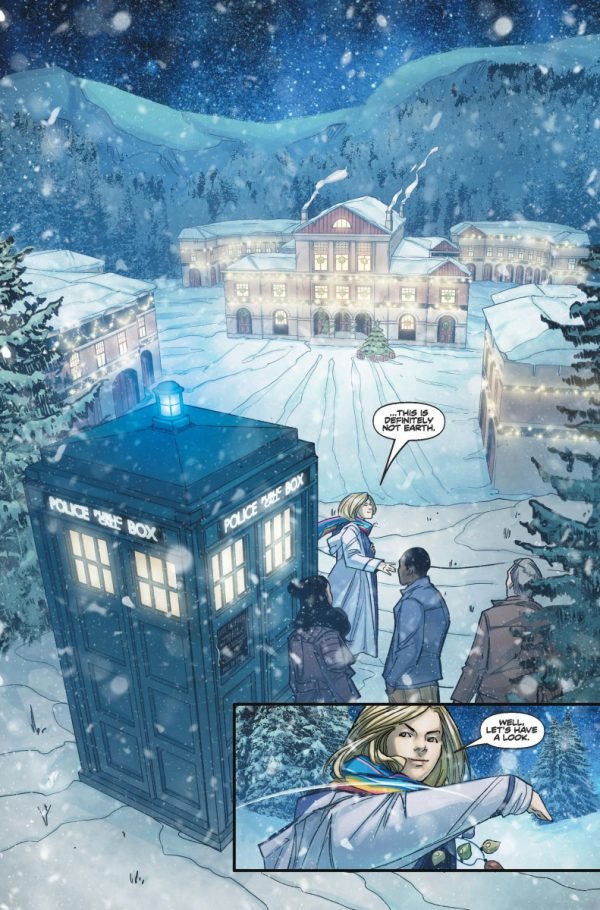 The action then ramps up as the Doctor takes the TARDIS to the house owned by a mysterious Mr. Henderson, following an enjoyable sequence where she gives her friends devices that should stop their brains being scrambled. However, we've also learnt from Friffle that the Doctor has already been on this path once before. We'll have to wait till the next issue to see if she invented these devices but doesn't remember it. But it's a pleasing sequence anyway.
We get another stunning panel from Ingranata with the TARDIS landing in a snowy landscape which took my breath away. It isn't long before they find themselves in the usual trouble. Surrounded by strange Nutcracker soldiers that wouldn't be out of place in The Mind Robber, they come face-to-face with the strange Mr. Henderson who is dressed up as Father Christmas.
But no one on this world likes that name – in fact, it appears to be something of an insult and the crew find themselves imprisoned. But we do learn that some version of Santa Claus is taking Mr. Henderson's workers and seemingly eating them.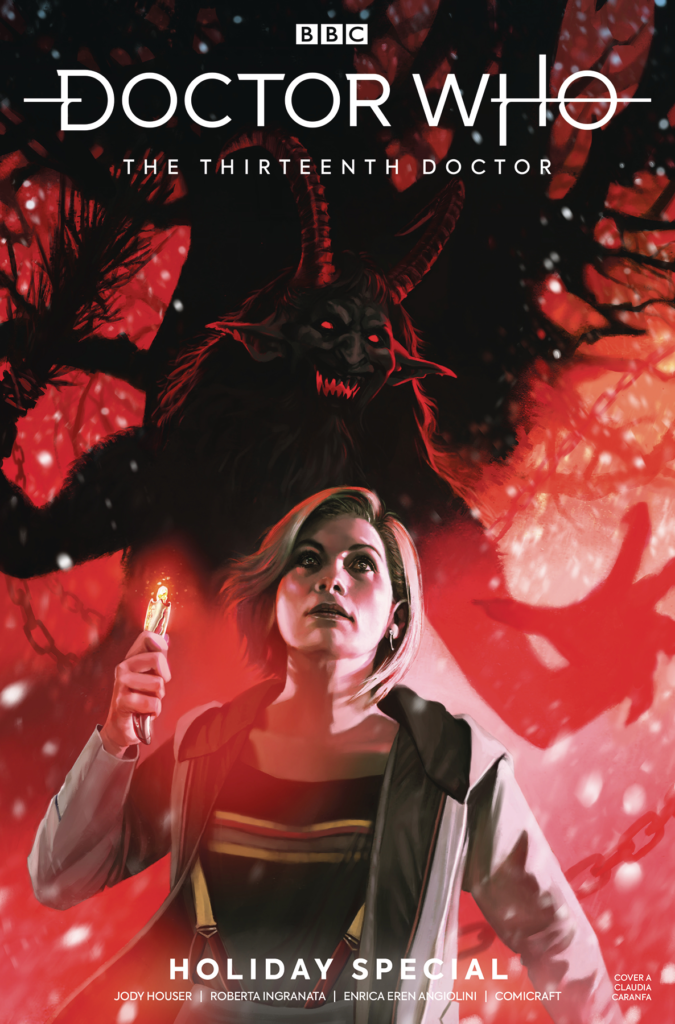 I'm willing to put money on the shadowy figure who stalks this comic being a version of the Krampus, a mythical evil version of Father Christmas who steals naughty children by sacking them up, dragging them up the chimney, and then eating them in its lair. John Dorney tackled a version of the Krampus in the Ravenous saga from Big Finish but it's a Christmas topic I'm surprised the television series proper has never tackled before – perhaps it's a little too dark a myth for the show to tackle but it's ripe for a Doctor Who spin. (Plus the cover for issue 2 really does seem to suggest some take on the mythical Krampus!)
Overall this first issue of the two-part series is a great read and well worth picking up; from its stunning artwork and colouring to its brilliant script, this book flows really nicely and is easy to read. It's a stunning take on the Thirteenth Doctor's era and if its not already, maybe put this on your Christmas lists.
The Thirteenth Doctor: Holiday Special #1 is out now from Titan Comics.