Many older fans will have had the pleasure of visiting the Doctor Who Exhibition in Blackpool. After Longleat (which was open from 1973 to 2003), Blackpool was the oldest exhibition, opened in 1974 by Jon Pertwee and Lis Sladen, closing in 1985, and then reopening in 2004 to celebrate the revived series. Its doors closed for good in 2009. It was succeeded in 2011 by the Doctor Who Experience, which opened initially at the London Olympia and then transferred to Cardiff a year later, finally closing in 2017.
In its time, the Blackpool exhibition boasted original props and costumes and even Bessie herself. These included a Draconian, a Silurian, an Axon, a Yeti, Daleks (of course), several Cybermen, Ice Warriors, Sontarans, Morbius, the Keeler-Krynoid, K-9, and the Total Survival Suit from Kinda.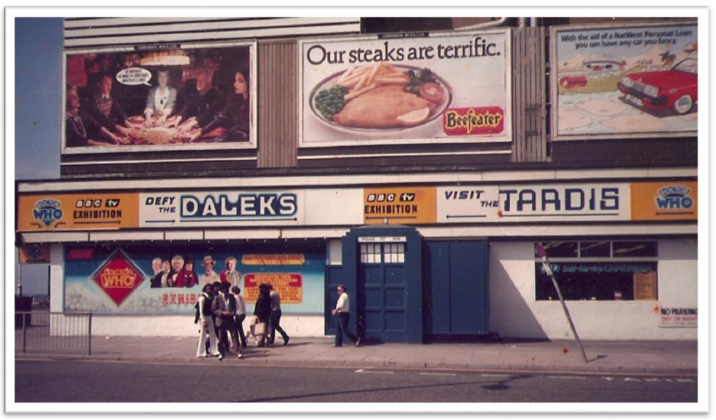 Now fans can reminisce – or learn for the first time – about the treasures of the Golden Mile in Blackpool Remembered. This 400-page tome — published last month — is collated and edited by John Collier. It charts the history of the exhibition, bringing together memories, anecdotes, and rare photographs from the people who visited it. As Collier writes in his introduction, his book is,
A colourful celebration told by those who were there. It's a scrapbook of stories from an Exhibition Army that created the place, the staff that kept it going and the visitors who have never forgotten it.
80 contributors have been involved in the project, including former staff and visitors. As former K-9 assistant operator, Steve Cambden, writes in his foreword,
The genius of the exhibition's design was how faithfully they replicated the format of the programme. Drawn in by the theme music's imagery of time travel, you entered the world of Doctor Who through the double doors of the TARDIS. Naturally, it was bigger on the inside than the out, and the darkened passageway that confronted you held the promise of adventure.
Now you can enjoy these memories with an electronic version of the book that is free to download. Or, to find out more, you can visit the book's website, here.