The Twelfth Doctor, Peter Capaldi, was on hand last month to give out prizes at this year's "Voices" writing competition. The event – the fourth of its kind – was organised by the charity Coram Voice and provides children in care, and those who have recently left it, with a platform to tell their stories.
Several children in care won prizes open to different age categories, from 9 to 17. The winner of the care leaver category of the competition was 21-year-old Sophia Alexandra Hall, who is a recent Oxford graduate, with her poem The Girl Behind The Glass.
Coram Voice is an advocacy charity that helps children in care navigate the social services system, hold services to account, and ensure their rights and preferences are respected. This is necessary work. In the UK today, there are over 68,000 children and young people reliant on the state for their care and well-being, with 378,000 more needing some level of support from children's services. This is because their families cannot care for them safely or because they have been abused or neglected. As Peter put it:
"The experience of care is not a straightforward one and needs greater understanding from all of us. There are few things that illuminate it more than these powerful words, chosen by gifted and resilient young people."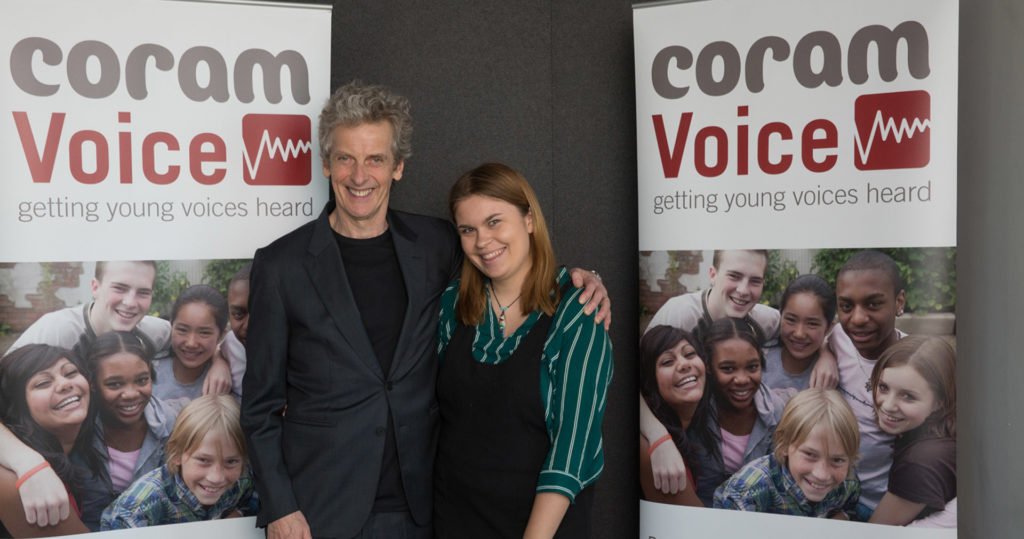 Peter has been giving up a lot of his time recently for worthwhile projects. DWC readers will remember that he recently appeared in a music video for his cousin, Lewis, to raise money for the organ donation charity, Live Life Give Life. He is also a supporter of Operation Smile UK and patron of the Association for International Cancer Research and the Scottish children's charity, the Aberlour Child Care Trust. In January, he donated the entire proceeds of his autograph sales at Edinburgh's Capital Sci-Fi Con to Children's Hospices Across Scotland (CHAS). Peter, a fan of Doctor Who since he was very young, might have left the series but, clearly, the Doctor hasn't left him.