We sadly have to report the passing of legendary actor, John Challis who passed away on the 19th September 2021.
Best known for playing Aubrey Boyce – or Boycie – in Only Fools and Horses, John Challis enjoyed a long acting career from his first role in 1964's Where Has Poor Mickey Gone? up to 2018 with the end of Benidorm. During that time, he had guest appearances in shows like Softly, Softly, Dixon of Dock Green, Z, Cars, The Sweeney, Open All Hours, The New Avengers, Coronation Street, Juliet Bravo, and Howard's Way to name a few, plus 2016's one night only remake of Are You Being Served, where he played Captain Peacock.
Challis had sadly been battling cancer, which only became public knowledge when his health took a turn and he had to cancel a public tour. He was due to perform in 30 different venues in an event billed as An Intimate Evening with John Challis but had to cancel the show after one performance.
Born in Bristol, Challis' parents moved to London when he was one year old. He attended the Ottershaw Boarding School near Woking and when he left, he became a trainee estate agent, before running away with the Argyle Theatre for Youth. Acting seemed to run in the family as his mother was a keen amateur dramatic performer. His father was a civil servant.
His height meant that he was somewhat typecast as playing doctors, police officers, or thugs on television, though his work with the Royal Shakespearean Company in the 1960s proved his acting range and talent. The two theatre productions he is perhaps best known for are Richard III and A Midsummer Night's Dream which were performed open air in Regents Park in 1995.
For Doctor Who fans, he will be unforgettable as Scorby, a mercenary in the Fourth Doctor story, The Seeds of Doom. Employed by the slimy Harrison Chase, Scorby is tasked with bringing back the Krynoid seed pod. Along the way, he tries to kill the Doctor and Sarah. I really like him in The Seeds of Doom and he gets a decent character arc, showing him as a killer in the beginning but willing to get stuck in when the Krynoid begins to attack (though only out for his own survival) before leaving Sarah and the Doctor to be eaten so he can make his escape — then being killed by the Krynoid himself.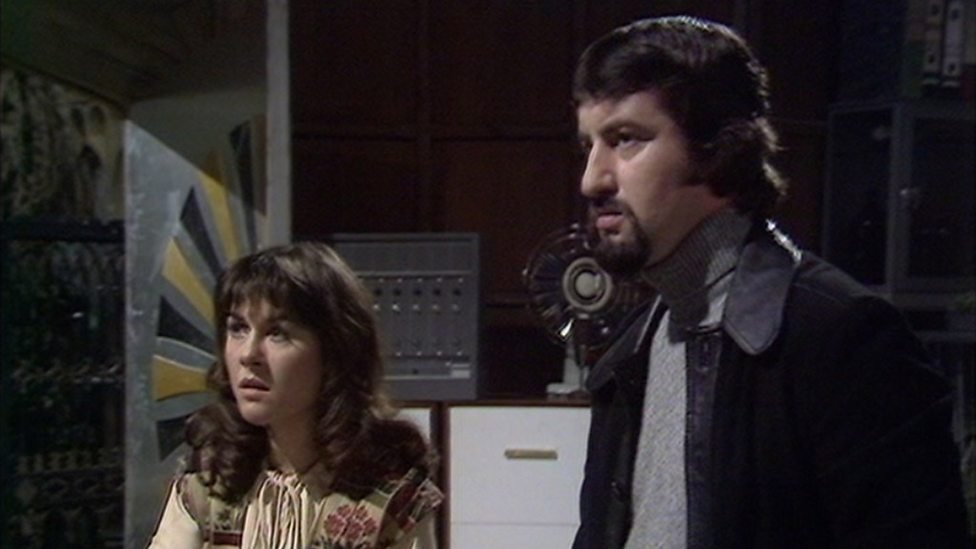 Challis often remarked on making this story, that he is surprised so many people remember him from it. He also liked to tell the story, in commentaries and behind the scenes videos, of how he filmed his death scene, went back to the hotel, had just gotten in a warm bath, only be to called back out to re-film his death scene, in freezing cold water, because something went wrong with the cameras!
It wasn't to be his only Doctor Who appearance as he went on to play a future incarnation of the Time Lord Drax in Big Finish's The Trouble With Drax, where he was reunited with co-star, Tom Baker.
But he will always be remembered as the lovable, roguish second-hand car dealer from Peckham, Boycie. He had a long association with creator, John Sullivan who cast Challis in the role. On the announcement of his death, the surviving members of the cast, including Sue Holderness who played his onscreen wife Marlene, all shared lovely memories of the warm and witty actor.
Boycie was so popular, thanks to his iconic laugh and cracking one liners, that Sullivan brought Boycie and Marlene back in 2005 with the Only Fools spin-off, The Green, Green Grass. This saw the pair on the run from the Driscoll brothers and hiding in a massive country farm. The outside of Boycie's farm was actually one of Challis' houses! I love The Green, Green Grass and I think it's from here I'll remember Challis the most.
Finally, in a surprising turn of events, Challis found himself as a honorary citizen of Serbia where Only Fools and Horses remains incredibly popular. It was to form the story in a documentary, Boycie in the Belgrade, where Challis travelled to Serbia to find out why the show remains so well loved there.
It's sad that another legendary actor has left us, even given the extraordinary life Challis had. No doubt though, he will always be remembered as the character with an iconic laugh you can hear through pictures.
Our thoughts go to his friends and family. He will certainly be missed, including by those lucky few at the DWC who met him and found him to be an absolute joy.