With theatres now back in full swing following the lockdowns we've had over the past couple of years, you might be recognising some of the faces currently treading the boards in some of theatres in the West End.
You might have already seen Mandip Gill in 2.22 or David Tennant in Much Ado About Nothing alongside his companion Catherine Tate. But this year will find a number of other Doctor Who actors coming to the stage, so there will be plenty to see for us theatre fans!
John Bishop in Mother Goose
John Bishop, who played Dan Lewis opposite Jodie Whittaker's Thirteenth Doctor and Mandip Gill as Yaz, is currently doing a tour of the pantomime Mother Goose, alongside Ian McKellen as the titular Dame.
Doctor Who was something of a departure for Bishop, who had made his name as a stand up comedian before joining a number of TV panel shows. He had a little acting experience in other television projects and even starred in a comedy film before joining Doctor Who.
Now, he's returning to his stage roots, playing Vic in Mother Goose, the love interest. Even Ian McKellen has been in Doctor Who, voicing the Great Intelligence in the 2012 Christmas Special, The Snowmen.
Mother Goose is currently on at London's Duke of York Theatre until the end of January and then will head off tour.
Jenna Coleman in Lemons Lemons Lemons Lemons Lemons
Jenna Coleman, of course, played Clara Oswald alongside the Eleventh and Twelfth Doctors. Clara is a divisive figure within fandom as is the actress who some people love and others have had negative experiences with. The DWC thinks she's great though.
But here, she stars alongside Aidan Turner in a play set in a dystopian future where speech is limited to 140 words per day. In all honesty, as someone who is a bit grumpy, this sounds quite nice to me!
Originally created for the Edinburgh Fringe Festival, this bold romcom from Sam Steiner became a hit and is now being performed at the Harold Pinter Theatre, directed by Josie Rourke.
Arthur Darvill in Oklahoma!
Arthur Darvill played companion Rory Williams alongside Matt Smith's Eleventh Doctor and Karen Gillan's Amy Pond. Rory's time in the TARDIS wasn't easy as he was constantly dying, they then found out that River Song was their daughter, and then was sent back in time to live the rest of his life in the past thanks to a Weeping Angel.
Since Doctor Who, he's guested in a number of television series and was a lead in DC's brilliant time-travel superhero show, Legends of Tomorrow (RIP).
But Darvill has been making a bit of a name for himself recently in theatres — last year he made his first appearance as cowboy Curly McLain in the Young Vic's take on Oklahoma!.
That show is coming to the West End following glowing reviews and is currently being performed in Wyndham's Theatre.
Daniel Mays in Guys and Dolls
Daniel Mays guest starred in Series 6's Night Terrors. It could have been great but a lacklustre performance from some of the cast let this tale down. Luckily, I remember him in much better roles, i.e. in shows like Ashes to Ashes and Line of Duty. There's no denying that Mays is a fantastic actor and his CV reflects that, including a number of other theatre performances.
Here, he is taking part in the Bridge Theatre's first ever musical, Guys and Dolls, where he will play gambler Nathan Detroit.
Directed by Nicholas Hytner, Guys and Dolls is an immersive experience currently being performed at the Bridge Theatre.
Sophie Okonedo in Medea
Sophie Okonedo guest starred as Liz 10 in the Series 5 adventure, The Beast Below and then made a cameo in The Pandorica Opens. Previous projects include Hotel Rwanda, Death on the Nile, and Doctor Who: Scream of the Shalka.
Now she is starring at the Soho Palace as the legendary Medea, based on Euripides' tragedy, and this time directed by Dominic Cooke.
Steven Moffat and Mark Gatiss's The Unfriend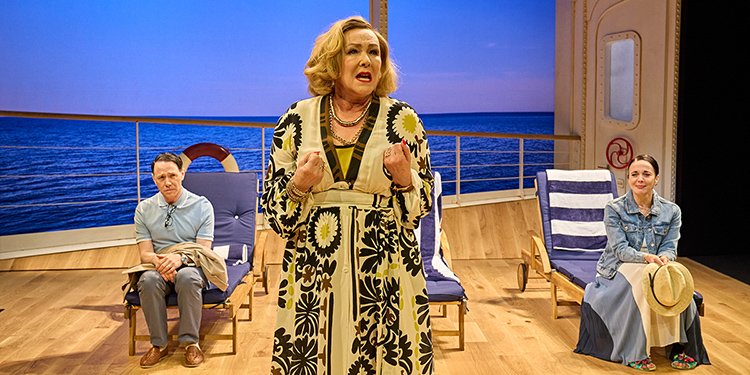 I never got a chance to see this one, but it was in the Chichester Theatre the last couple of years. The Unfriend marks Steven Moffat's stage writing debut, while Mark Gatiss directs. It's a story about a houseguest from hell, and has just transferred to the West End following its successful tour in Chichester.
The Unfriend also stars Reece Shearsmith from Sleep No More, An Adventure in Space and Time, and more famously Inside No 9. Amanda Abbington (Sherlock) and Francis Barber, who played Madame Kovarian in Series 6, also star.
The Unfriend can be seen performed at the Criterion Theatre.
Find out more about these plays and book tickets via London Theatre.