A cache of mostly unseen photos from the seventh season of Doctor Who have recently been made public. The black & white and colour images were taken behind the scenes during production of Jon Pertwee's debut as the Third Doctor.
The photos were taken during several separate shoots. In make-up and wardrobe, one can see costume supervisor Christine Rawlins and make-up supervisor Marion Richards. In the chair and looking relaxed is actor Caroline John, who played Dr. Elizabeth Shaw, the Doctor's initially reluctant assistant, who had been drafted in by the United Nations Intelligence Taskforce (UNIT) to advise on a shower of very unusual meteorites. Included among these photos are also some test shots of the aliens in The Ambassadors of Death.
Another set of photos were taken in the visual effects workshop, with models of the Recovery 7 and the Mars Probe capsules from the same story. Included is a shot of the entire visual effects team, including luminaries such as Bernard Wilkie and Jack Kine, who co-founded the BBC Visual Effects Department in 1954, making it the first such TV unit in the world. The pair worked on Rudolph Cartier's landmark production of George Orwell's Nineteen Eighty-Four, Nigel Kneale's pioneering Quatermass serials, and Monty Python's Flying Circus. Also seen is John Freedlander, who a few years later created the iconic mask for Davros in Genesis of the Daleks.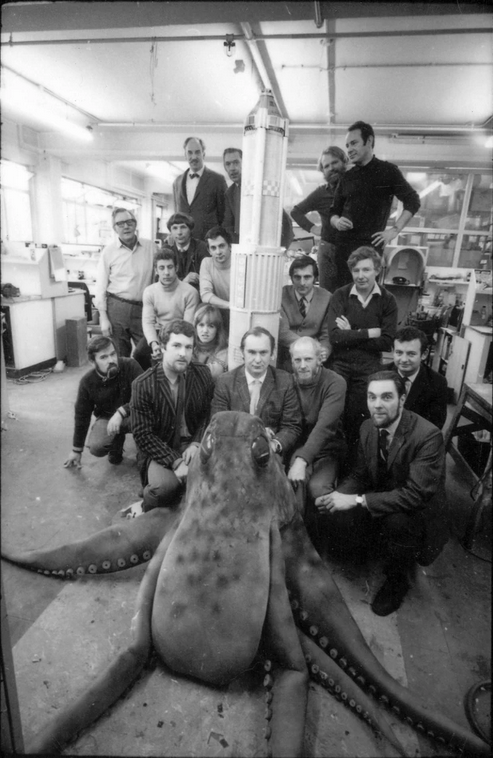 Above: The BBC Visual Effects Team, including Bernard Wilkie & Jack Kine (top left of model) and John Freedlander (far left).
From the Doctor Who production office in 505 Union House, there are several shots of two of its giants, producer Barry Letts and script editor Terrence Dicks, who shepherded the series from the arrival of Jon Pertwee in 1970 through to Tom Baker's first story, Robot, in 1974. In so doing, they gifted us the Master, Jo Grant, Sarah Jane Smith, and created 'the UNIT family' still held in great affection today. Also featured is production secretary Sandra Bernholz.
There are also images from the studio gallery, including more of Letts and Dicks but this time with director Douglas Camfield, that will be familiar to many fans. Finally, there are several shots during rehearsals on Inferno, the seven-part epic that concluded Pertwee's freshman year. Here, we see actors Sheila Dunn (Dr Petra Williams), Olaf Pooley (Professor Stahlman), Christopher Benjamin (Sir Keith Gold), and Derek Newmark (Greg Sutton). A number of these images are also in colour, as befits Who's emergence from its black and white beginnings.
While some of these images have been in circulation for years, many have not, and we have the Radio Times to thank for rumpaging through its archive. They are an intriguing set of photos, documenting an eventful and important year for Doctor Who. To see them all for yourself, click here.