Following on from their success with Lytton, Cutaway Comics is continuing its exploration of the wider Doctor Who universe, this time with the announcement of Omega and Eldrad, as well as Orcini and a sequel/prequel to Paradise Towers.
For those who didn't know about these comics, Cutaway Comics is an independent comic publisher from Manchester, who, through the use of Kickstarter, funded a series of Doctor Who comics focusing on more obscure characters from the series. The first of those comics is currently underway with Lytton, focusing on the character who appeared in Resurrection of the Daleks and Attack of the Cybermen. Written by original creator, Eric Saward, it looks at Lytton's life outside of meeting the Doctor as a bounty hunter.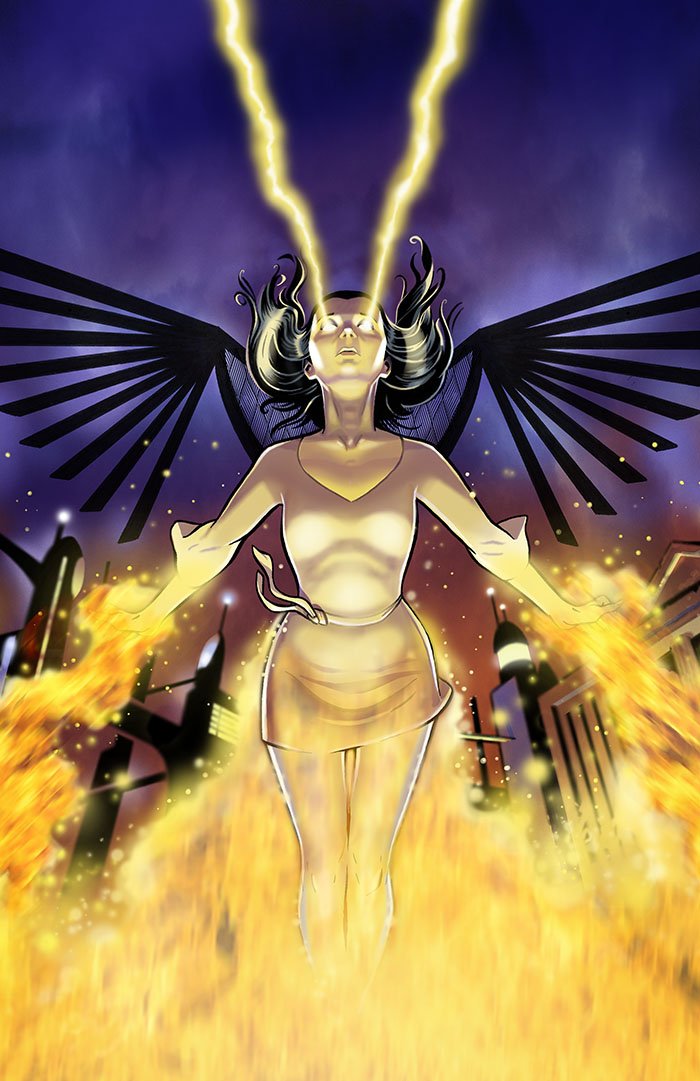 With a bit of cover in Doctor Who Magazine, the Lytton comic exceeded Cutaway's expectations and they felt confident in announcing some of their further titles.
Omega will be released next. Some readers will be familiar with the artist's name, John Ridgway who, back in the 1980s drew two comic strips for Doctor Who Magazine, Voyager and The World Shapers, as well as working on the Hellblazer series for DC Comic's Vertigo line.
Some promotional artwork has been released which looks stunning, and the story, from author, Mark Griffiths focuses on Omega trying to break back into our universe with the help of the Minyans, who first appeared in the Marmite story, Underworld.
Cutaway comics had this to say for those who are interested in the Omega series:
"Omega's mix of the cosmic and mythologic will appeal to fans of The Sandman and Promethea. We have worked closely with original creator Bob Baker to ensure our exploration of the character is true to Bob (and late co-creator Dave Martin's) vision of Doctor Who's own Galactus."
Bob Baker's involvement isn't just limited to Omega however, with Eldrad making a return to the Whoniverse. The story sees a splinter from Eldrad's body making its way to Earth to wreck havoc on a power-plant once again and it's up to Professor Watson, another character from The Hand of Fear, to defeat Eldrad once and for all.
Unlike Omega, Eldrad will only be a one-shot, but it's no less exciting to see these characters continue to be explored from the Doctor Who universe.
Cutaway Comic's founder, Gareth Kavanagh spoke a little about these titles.
"Some people might think we are mad continuing and developing characters like Orcini and Eldrad, but with so much potential left unexplored in these worlds, and the original creators willing to explore them in a medium new to them, we've got a formidable match of talent and energy to harness."
Alongside Bob Baker, Cutaway Comics has managed to get DC Comics' artist, Stephen B. Scott to draw the one-shot – which promises a slice of horror, much in keeping with the Philip Hinchcliffe era the original story was a part of.
As well as these two new comics, there are a series of backup comics to be featured at the end of each issue of Omega, following a story called The Demons of Eden which will see a group of nuns on the planet Eden fighting the Mandrels. This will also get a deluxe trade paperback edition later in 2021.
That's three really interesting and exciting comic series coming from Cutaway this year, just when I had to decided to cut down on my comic book purchases! But I'll be making an exception for these which promise to be really exciting looks at the lives of these Doctor Who creations. And with Orcini and Paradise Found announced too, funds pending, it looks like it's going to be a really exciting year for Cutaway.
I'm hoping for a Sabalom Glitz series, following the years of him and Dibber as an intergalactic Del Boy and Rodney, set in the future…