Recently it was revealed that, in the 1990s, the BBC was going to release a science-fiction comic, featuring artwork from Gary Leech and Doctor Who Magazine's Lee Sullivan.
Disappointingly, that comic idea came to nothing, but it was going to feature its own version of Doctor Who, featuring the Eighth Doctor and set after the events of the TV Movie. In a recent interview, graphic designer, Matt Bookman gave details of how those lost Doctor Who comics might have looked.
It all goes back to the work Bookman used to do for the Radio Times and the illustrations he commissioned. But he could only really use a certain type of artist; nevertheless, he persevered and got many different people to contribute, including future Marvel and DC artist, Barry Kitson. Following the transmission of the TV Movie in May 1996, the Radio Times began to run a weekly Sci-Fi page.
The top of the page was to be a round-up of various television and radio projects that took part in the sci-fi genre, while the bottom part of the page was to feature a regular comic strip for the Eighth Doctor.
Bookman explains who was brought on board to create these strips.
"Commissioning Editor Ann Jowett was responsible for the words on the page and commissioned Garry Russell to write the comic strip. In turn, Gary brought a team of creators with him, Lee Sullivan on art, Alan Craddock on colours and Elitta Fell on letters. Once the team was assembled, the page was assigned to me to design on a weekly basis. As I was the Art Department's most vocal fan of both comic strips and genre TV this was no hardship."
Unfortunately, things began to fall apart when The TV Movie wasn't the hit it was expected to be and the Sci-Fi page in the Radio Times was retired. This ended the continuing adventures of the Eighth Doctor in comic book form outside of DWM for a while. However, Bookman wasn't deterred and he began to work on something completely new: The Sci-Fi Files.
"The project I was envisioning, would be fine to include feature content that related to a wider world of films and commercial TV programming. But the comic strip content had to be about BBC properties.
"In 1997, TV programming in the UK was not as genre friendly as it is today, so there weren't a lot of programmes I could choose from in the BBC's schedules. The one sure SF hit that the BBC was broadcasting at the time was The X-Files. This led me to name the project "The Sci-Files".

"Along with the document, I drew some images and designed a cover to explain, visually, what I was proposing. My cover montaged my illustrations of Dean Cain, the then current TV Superman, the cast of Bugs, and Kryten from Red Dwarf alongside a photograph of the leads from the The X-Files and a panel from Lee Sullivan's Radio Times "Dcotor Who" comic strip."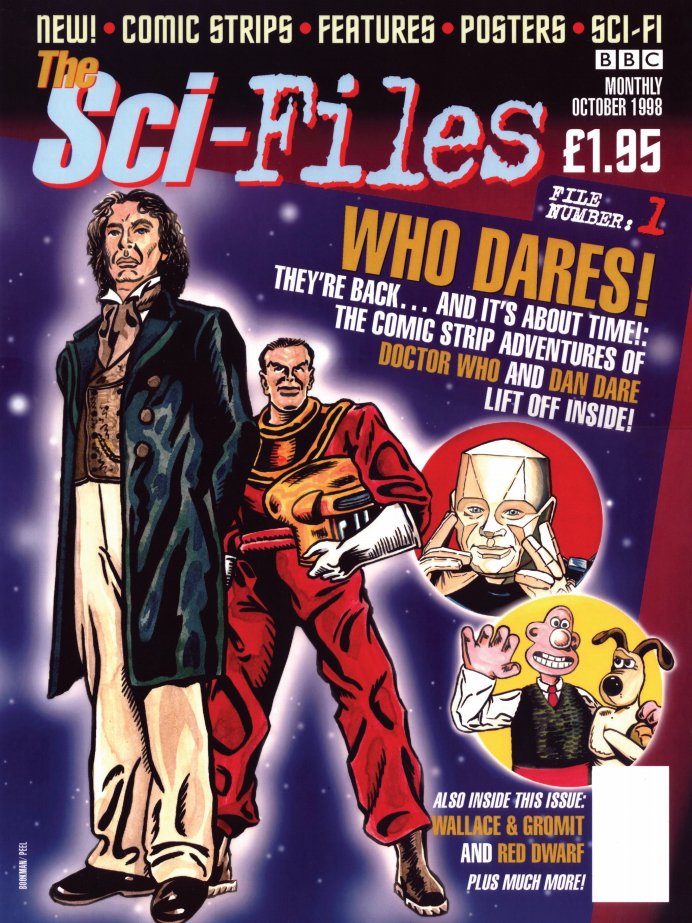 By April 1997, Bookman's pitch was all ready to go and he had a meeting with Nick Brett who was editor for the Radio Times as well as other BBC magazines. But BBC Worldwide was undergoing change and there was a shuffle of who was in charge of what and Bookman soon found himself having to re-pitch for a new publisher Stuart Smith, though luckily Smith was interested and took the project seriously.
It wasn't long before Bookman was put in touch with Steve Cole, who, at the time, was the editor for the Doctor Who books. However, the Eighth Doctor was co-owned by Universal and they would have to be paid for every use of the character. But a new idea was born out of this: why don't they just create a new incarnation of the Doctor?
"In April 1997, I was suddenly given a budget to commission some comic strips. Radio Times Publisher, Stuart Snaith wanted to see each strip designed as a sample double page spread, drawn as huge boards that would look impressive, if only just for their size alone. He wanted this for presentation purposes, though I don't know that they ever were used this way in the end.

"Steve offered to write a short script introducing the new Doctor. To my knowledge, he did not get any payment for this. His vision was for a much younger looking Doctor than before, to connect with kids who may never have seen the television programme. Shades of David Tennant!"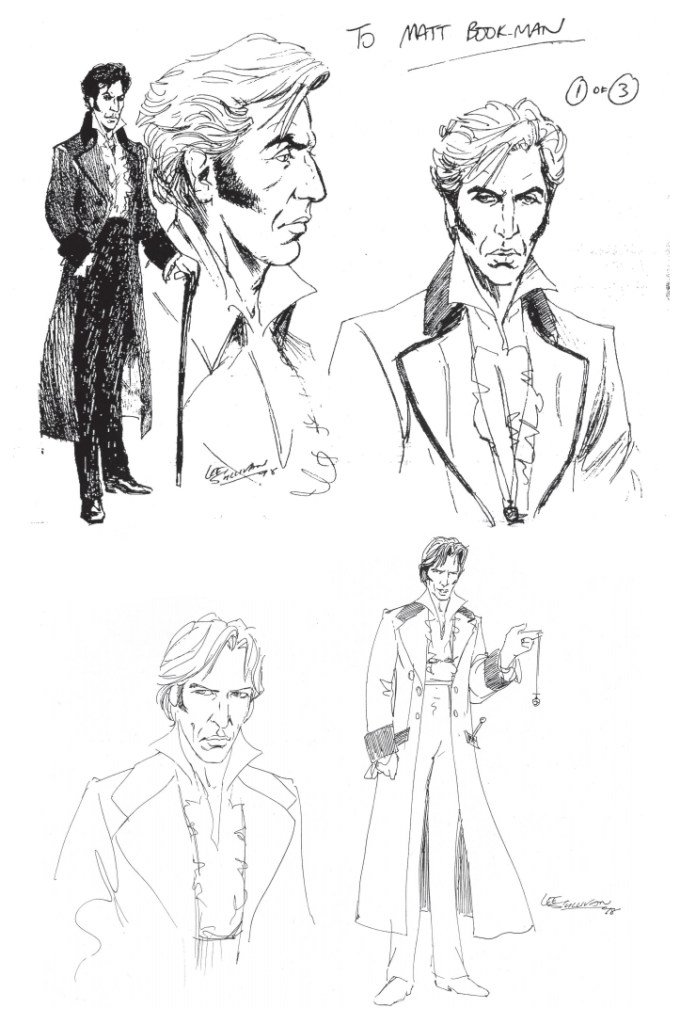 "Lee got totally carried away and produced at least 16 pages of rough visuals, working out the look of the new Doctor, the TARDIS interior and new look Cybermen. Once he got Steve's script, he also produced a rough page layout in black and white, and a full colour rough too before starting the finished version."
As the project progressed and artwork and scripts, not just for Doctor Who comics but also properties like Dan Dare, Red Dwarf, The X-Files, and Wallace and Gromit, the comic, once called The Sci-Fi Files, was now renamed Robot. Copies were eventually made and went to be market tested in Manchester.
Things looked hopeful but unfortunately not as hopeful as Bookman had envisioned; the comic hadn't sold as well opposite its competitors and members of the focus group trying the magazine had been less than impressed by the whole thing.
"This testing took place in a suburban house. The couple who owned it made refreshments and their teenage son and his friends became the testers.

"I explained what the concept of Robot was. Copies of the dummy were handed out and the testers questioned, but it wasn't a great feeling being there. I don't really remember any of the specific questions and answers. What I do remember was the negativity that seemed to pour from the focus group, who didn't seem to like anything that they looked at. I took the tube home, knowing that the project was most likely doomed – and had a sudden dislike of focus groups!"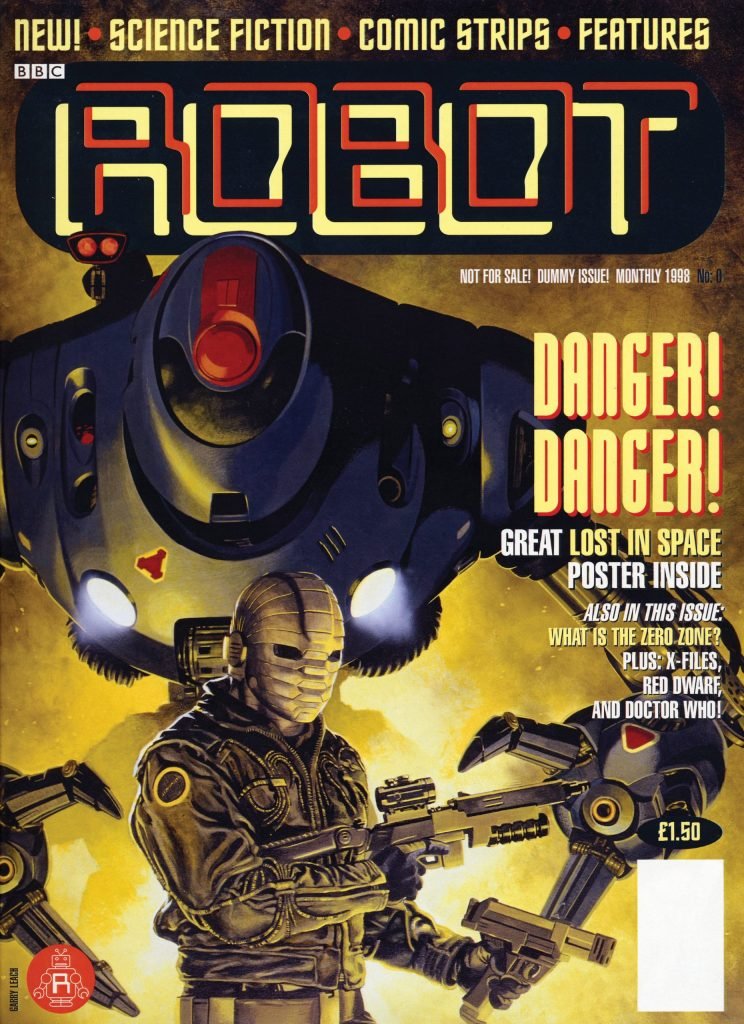 It would be another month before Bookman would know the final result. The BBC wanted nothing to do with the project and suggested that he try to pitch it to Sky, who were rerunning Star Trek: The Next Generation as well as launching the Sci-Fi Channel. Despite some protests from Bookman and Steve Cole, the project was shut down and Robot was not to be.
Matt Bookman continued to work and commission artwork for the Radio Times for another year following the cancellation of Robot, but felt he had nothing else to give and instead moved into audiobook work, commissioning artwork for some striking covers.
"I'm still convinced that Robot could have been a success and I have been suspicious of focus groups ever since. My love of comics is as strong as ever!"
In this day and age, would a comic like Robot work? I would say, yes, it would, but would it be a magazine that could sustain itself? I'm not sure. Now with Marvel and DC comics owning the comic book industry, I doubt you'd be able to have brand new Superman adventures, even if it looked like the Dean Cain or Tom Welling television universes.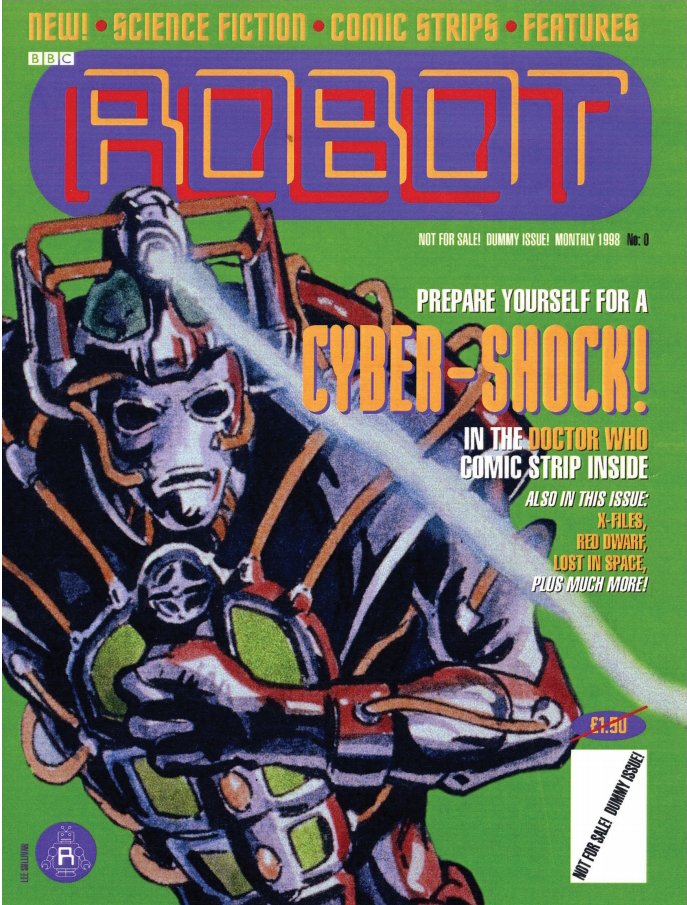 Would Robot work nowadays as a retrospective comic with strips dedicated to Doctor Who, The X-Files, or Dan Dare? Possibly. Titan Comics and DWM have proven that a Doctor Who comic most definitely works. Dan Dare stills proves to be as popular now as it ever was.
But what if Robot, probably under a new name, work with brand new strips for shows like The X-Files, Supernatural, and something older like Charlie's Angels or The Bionic Woman or something of that ilk? I reckon there could be a market for that.
Maybe Robot, and the lost Doctor Who strips, complete with brand new Doctor, should be resurrected?
You can find out more about this over at Down The Tubes.
(Thanks to Christian Cawley.)