The First Doctor adventure, Galaxy 4, will be animated for release on DVD and Blu-ray (including as a limited edition steelbook).
And we don't have long to wait: it'll hit UK shelves on 15th November 2021!
It's very exciting to see that the animation schedule seems to be ploughing ahead faster than ever before (albeit probably due to the delays caused by Covid-19 and lockdowns which meant a gap in animated releases); after all, The Evil of the Daleks animation is coming out on 27th September.
And this is only the third First Doctor animation, The Reign of Terror and The Tenth Planet having both been released in 2013!
Galaxy 4 aired in 1965 but episodes were junked soon after their original transmission. The third episode, Air Lock, was discovered in 2011, and has been lovingly restored for this release. Five minutes of surviving footage from the otherwise lost first episode, Four Hundred Dawns, has also been restored.
We'll be able to enjoy both in a reconstruction of Galaxy 4 presented alongside the animated version. This reconstruction uses the audio and still images to recreate the serial as closely as possible to its first transmission.
Here's what to expect from Galaxy 4:
Trapped on a dying world with two alien ships, the Doctor will have to decide who to trust if anyone is to escape alive

In Galaxy 4 the Doctor (William Hartnell) and his companions Vicki (Maureen O'Brien)and Steven (Peter Purves) land on a planet on the verge of total annihilation as it drifts too close to the three suns which it orbits. Trapped on the planet with them are the Drahvins, a race of beautiful warrior women, and the deeply alien, reptilian Rills. Both claim the other side initiated the exchange of fire that downed both their ships on the planet. But who should the Doctor trust? And can even the TARDIS free them from the planet's hold in time?

With only one of the ships repairable, the Drahvins and the Rills may have to choose whether to escape together, or to die together. The Doctor is determined to broker a peace deal between the two sides and help everyone escape safely. But the Drahvins' leader Maaga doesn't trust the Rills… or the Doctor.
Okay, so it's not exactly a surprise: we heard rumblings of this back in May, but it's nonetheless exciting!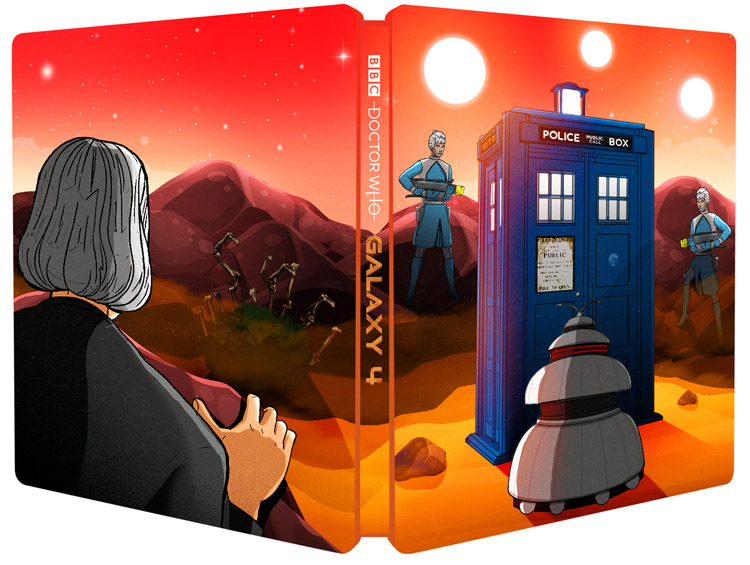 Gary Russell, Big Finish Creative's Executive Producer for the 2021 production, said:
"After a gap of many years, it is very exciting to bring the era of the First Doctor back into the animation world. Galaxy 4 is one of the most traditional adventures of 1960s Doctor Who and it's been a real honour to work on this alternative version which hopefully reflects those technicolour thrills that sci-fi moves of the '60s had but which Doctor Who's monochrome TV limitations couldn't yet achieve."
The two-disc release will include:
All four episodes, newly animated in full colour.
All four animated episodes, presented in black and white to match the surviving material.
Remastered surviving live action episode Air Lock.
Remastered surviving clip from Four Hundred Dawns.
Still image reconstructions of episodes Four Hundred Dawns, Trap of Steel, and The Exploding Planet.
Audio commentaries.
Making Of documentary.
Finding Galaxy 4 documentary.
Photo gallery.
Production subtitles.
It's available to pre-order now on DVD and Blu-ray, plus limited edition steelbook.