During a trip to the shops last December – Asda Home in Dartford, to be precise – I happened across a copy of the vinyl release of the Eighth Doctor Adventures' story MaxWarp. I had no intention of collecting any of the recent Doctor Who vinyl releases, but as this was an Eighth Doctor one I couldn't help myself and took this copy to the till. I don't think I've deprived a proper collector as this particular release had been out for a month and this was displayed quite prominently.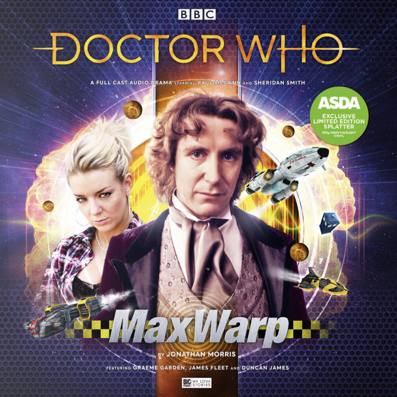 I think it's pretty clear now that there has been a resurgence of vinyl over the past few years – or more specifically, the LP – and the likes of Sainsbury's, Asda, Tesco, and indeed HMV are all selling vinyl again after a long period of absence. I haven't bought a vinyl album since the mid-1980s myself, having moved to CDs in 1985 when my copy of Duran Duran's Rio got scratched after just one play, but vinyl (or simply 'records' as we used to call them) holds a very different place than any other physical media: vinyl is the only media that holds a romanticism. We don't hold cassette tapes, video tapes, CDs, or DVDs in anywhere near the nostalgia of vinyl, if any at all.  
But why?
Is it that records were the first mass-appeal format? They've been around in some form for over 100 years now and just won't leave the public psyche.  
It is the sound quality? Maybe. Many audiophiles argue that vinyl has the best sound reproduction. It's quite sad then that the most available record players are plastic briefcases with tinny speakers. It wasn't so long ago that Argos was selling a record player for 30 squids; that really can't be up to much. 
Mind you, it wasn't so different all those years ago. My first record player was a hand-me-down from my mum: a 1950's Phillips suitcase, with a single speaker which was good enough for me to play my meagre collection of singles by The Sweet, Mud, ELO, and Sarah Brightman with Hot Gossip (I was 12; don't judge me on that last one).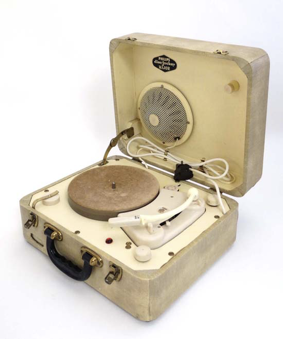 Is it the reverence one has to apply to a record when handling? Maybe. It's fragile, very easily scratched (and don't I know it!), and the sound quality decays ever so slightly after every play. They have to be gingerly dusted. Much care has to be taken to remove it from its sleeve, place it on the turntable, and replace it in its sleeve once it's been played. It's almost an act of worship! 
Is it the size of the covers that allowed so much artwork, sleeve notes, and extras? Oh, undoubtedly. For those into prog-rock during the 1970's, certainly.  
But then, it's probably all of the above.
Now, something occurred to me when I got my copy of MaxWarp home and it's this: there is far more Doctor Who vinyl being released during this 'renaissance' than during the format's golden era. That shouldn't really be a surprise if you consider the sheer number or Doctor Who audio releases, but it is a little odd seeing that vinyl is still a vintage format. 
So, what got released back in vinyl's golden era?
The Theme (various) 
The most obvious release is the Doctor Who theme tune single which was released in several different versions and covers. It also appeared on a few TV theme albums: BBC Space Themes (1978); or BBC Radiophonic compilations: BBC Radiophonic Workshop – 21 (1979).
The Daleks (1966) 
The first ever audio/soundtrack release was in 1966: a re-edited version of Part Six of The Chase where David Graham (Parker in Thunderbirds and voice of the Daleks) provided new narration. Oddly, the album is simply called The Daleks. On the cover, there is no reference to the original story title or that it's from Doctor Who. 
The extended play (or EP) was released by Century 21 Records who usually released soundtracks from Gerry Anderson's Captain Scarlet, Stingray, Fireball XL5, and Thunderbirds. As far as I can find, Doctor Who was the only BBC show that Century 21 Records released. 
Doctor Who and the Pescatons (1976)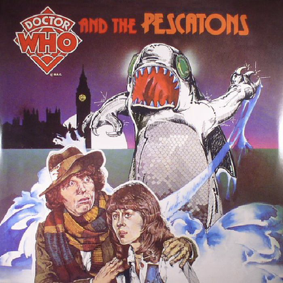 The Pescatons was the first original drama to be released, exactly 10 years after The Daleks EP, in 1976 and featured the then-current team of Tom Baker and Elisabeth Sladen. 
I found a copy of this in Readings, an independent record shop in Clapham Junction in 1980. I seem to recall that the vinyl itself was very chunky and I think that was reflected in the sound quality; although the best I could manage then was my parent's Fidelity stereo and my budget unbranded headphones.
Sound Effects Albums (1978/1981) 
Quite honestly, I couldn't see the point of these albums. It's not the sort of thing that a person can sit down and listen to. How many times could we listen to the Metebelis 3 Atmosphere or the Sonic Screwdriver? Although, having said that, I did buy the Doctor Who Sound Effects album. When starved of audio/visual merchandise, as we were back then, anything with the Doctor Who logo was probably guaranteed patronage. 
Genesis of the Daleks (1979) 
The second soundtrack adaptation and the most famous, the audio version of Genesis of the Daleks was released in 1979, but not followed up with similar releases until the cassette tape sets during the 1990s. I was made aware of this release by the cartoon-strip advert in Doctor Who Weekly and had to save up a bit of paper-round money to get my copy. Again, at the mercy of my parent's Fidelity record player, but it still got a few outings over the years.
Doctor Who: The Music (1983)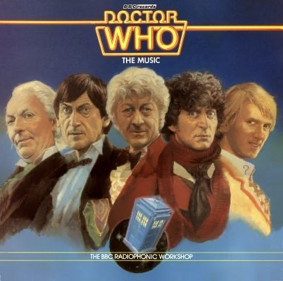 Bagged my copy from Our Price Records (remember them?) in the King's Road, Chelsea and this got played a lot. It was overly heavy with tracks from Seasons 18 and 19, but worth it just for Malcolm Clarke's March of the Cybermen from Earthshock and the beautiful Blue Veils and Golden Sand by Delia Derbyshire from Inferno. 
By this time, I had a Pioneer stacked Hi-Fi stuffed into the corner of my tiny bedroom and a much better pair of headphones. A Sonos speaker just doesn't have the same charm.
Doctor Who: The Music II (1985)
The follow-up, two years later, was obviously made up of music from the seasons that had broadcast since the first album. I have to admit, I did have a copy of this, but I can't recall where I bought it from or that it got played very much.
It really only gets away with pictures of all the Doctors (up to that time) by featuring music from The Five Doctors, but that's not a cover where much effort has been put in. Nevertheless, good to have.
A Couple of Oddities 
There are one or two other releases that warrant a mention.
In the 1970s and early 1980s, the BBC would release singles of their various theme tunes. On some very rare occasions they would chart in the Top 40 (Chi Mai: The Live and Times of Lloyd George by Ennio Morricone, for example).
One release was Moonbase 3 – an early 1970s series about life on a… well, a moonbase – where the B-side featured The Worlds of Dr Who (sic). This was a short compilation of incidental music by Dudley Simpson largely lifted from The Mind of Evil. Obviously, this was driven by Simpson having credited with both tracks, but I wonder if there was a bit more mileage in releasing the Doctor Who theme with The Worlds of Dr Who on the B-side. 
But the trend was to stay with the artist rather than the subject (on all the singles in my possession): the 1980 Doctor Who theme by Peter Howell shares its B-side with The Astronauts, a track lifted from Howell's 1978 album Through a Glass Darkly. 
Having said that, my copy of Delia Derbyshire's Doctor Who theme is backed by a track called Reg by Paddy Kingslade, which just goes to prove that there's always the exception.
The Worlds of Dr Who does appear on Doctor Who the Music.
Secondly, there was an earlier sound effects album: Out of this World (1976), which featured the TARDIS take-off and landing, plus a small TARDIS on the cover.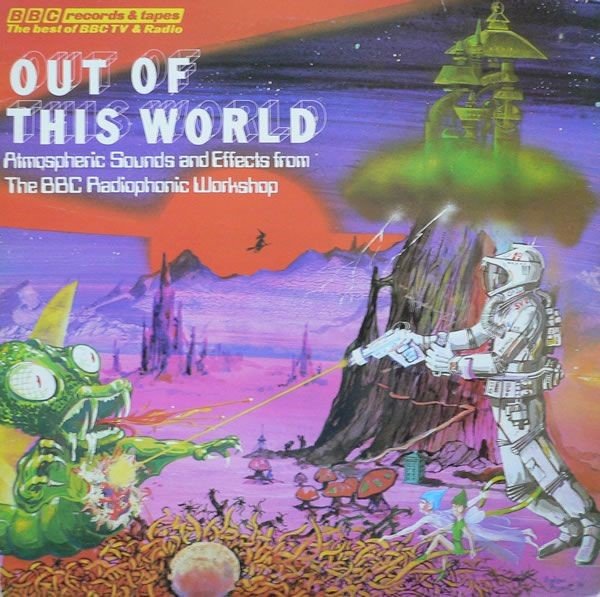 I bought this during a visit to Longleat's Doctor Who exhibition in 1981. I have to admit, I felt a tad cheated on this one as the Doctor Who content – despite the tiny promise on the cover – was minimal. Despite that, it was fun to spot where tracks were lifted from this and used on TV and radio in subsequent years.
There you have it; a meagre collection of vinyl record releases from between 1966 and 1985. From this point onwards, BBC releases became exclusively cassette tape releases until CDs eventually took over just before the turn of the century.
But in recent years, there has been a resurgence of Doctor Who vinyl record releases. Just take a look at this page to see the huge number of Doctor Who that has been issued since 2013.
Admittedly, most of these releases are limited editions and Record Day issues, but that's a staggering amount of Doctor Who on vinyl being released on what amounts to, in these digital download days, a novelty or niche format.
If only the Chimes of Midnight weren't so expensive …