The next 21st Century Doctor Who Blu-ray steelbook has been announced: Series 7, starring Matt Smith's Eleventh Doctor alongside Karen Gillan's Amy Pond, Arthur Darvill's Rory Williams, Alex Kingston's River Song, and Jenna Coleman's Clara Oswald, will be released on 14th December 2020.
Pleasingly, this has been announced today, 28th October, Matt Smith's birthday! Have a great one, Matt.
With a runtime of 9 hours and 45 minutes, the steelbook collects Asylum of the Daleks, Dinosaurs on a Spaceship, A Town Called Mercy, The Power of Three, The Angels Take Manhattan, The Snowmen, The Bells of St. John, The Rings of Akhaten, Cold War, Hide, Journey to the Centre of the TARDIS, The Crimson Horror, Nightmare in Silver, and The Name of the Doctor.
It's currently unknown whether it will also include The Doctor, the Widow and the Wardrobe…
Here's the official blurb:
Matt Smith returns for his third series as the Eleventh Doctor. Fourteen big, blockbuster-movie episodes – each a brand new epic adventure featuring new monsters and some familiar foes as you've never seen them before. The first part of this series sees the Ponds (Karen Gillan and Arthur Darvill) return for their final voyage with The Doctor.

They save a spaceship full of dinosaurs, don Stetsons in the Wild Wild West and are even kidnapped by the Doctor's oldest foe. But when they arrive in Manhattan the Weeping Angels are waiting for them – will The Doctor really lose Amy and Rory forever? Christmas brings The Doctor a new friend but how, where and when will he meet her?
And I may be biased – I love Series 7 (in fact, it's probably my second favourite season after Series 5) – but I think the covers are the most stunning so far. Artist, Sophie Cowdrey has nailed the vivid use of colours across the two-part run, and created a gorgeous, warm, and exciting composition. Take a look: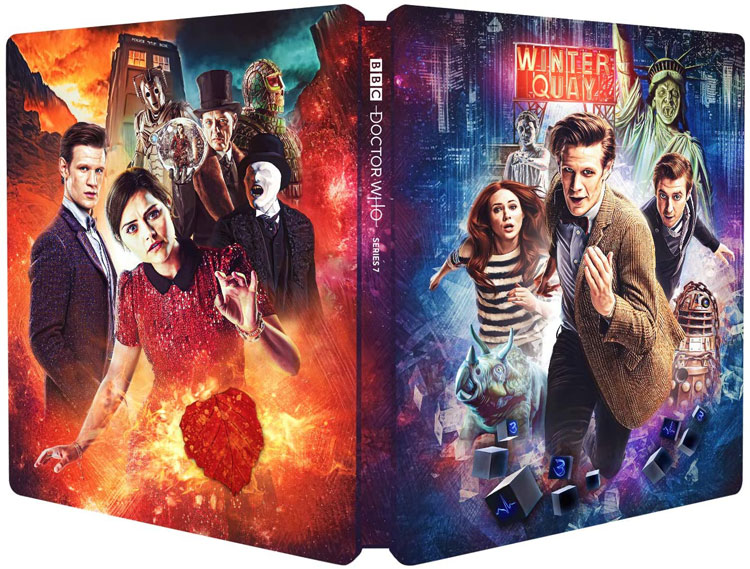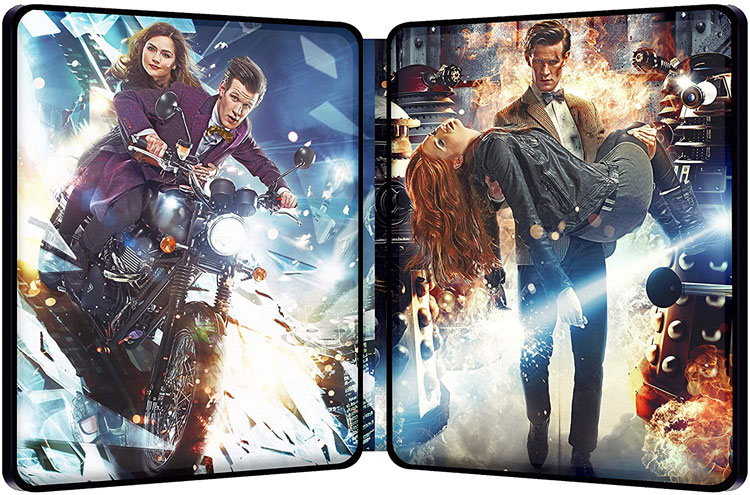 So what special features are included? Here's what's also collected in the set:
6 X PREQUELS
15 X BEHIND THE SCENES
4 X COMMENTARIES
3 X ADDITIONAL SCENES
3 X DOCUMENTARIES
3 X EXCLUSIVE CONTENT
SCRIPT TO SCREEN: GOOD AS GOLD
THE MAKING OF THE GUNSLINGER
POND LIFE
COMIC CON
As this set doesn't include The Day of the Doctor and The Time of the Doctor, here's hoping for a bumper 50th anniversary steelbook that'll further collect all the extra material that hasn't necessarily been released elsewhere or which is largely out of production now…
Doctor Who: Series 7 steelbook is available to pre-order now, and will be released on 14th December 2020.