Recently, we covered news about some of the upcoming Doctor Who comics from Cutaway Comics, one of which included a new series set in Paradise Towers.
Cutaway can't work without funds from Kickstarter, and the company's new series, Paradise Found, has exceeded expectations and raised enough money to create the miniseries, raising, to date, nearly £15,000, with an original goal of £3,456.
Along with the news that their goal had been exceeded, Cutaway has revealed some more information about the creative teams and the series. Paradise Found is written by Sean Mason, with art from Silvano Beltramo, with input from Towers' original creator, Stephen Wyatt.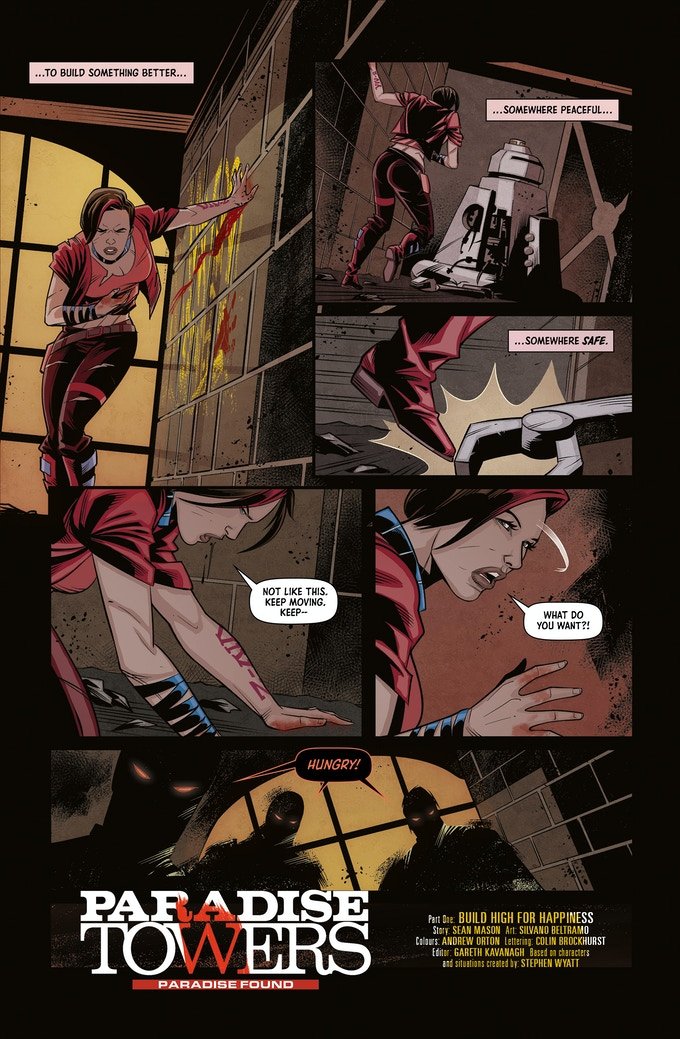 Sean Mason is an emerging talent from Manchester, who has been writing original pieces for theatres, as well as adapting works like V for Vendetta and Humpty's Bones, a horror novel from Simon Clark, though Paradise Found will be Mason's first foray into the comic universe.
Artist, Silvano Beltramo, has been illustrating comics since 1999 and has worked from publishers like Antarctic Press, AC Comics, Maverick Arts, and Tpub Comics. Beltramo was chosen as the artist for the series after Cutaway opened for submissions. And looking at some of the pages released, his work looks great. In fact, it looks a lot like some of the artwork going on in Marvel at the moment: The Champions, Black Widow, and Children of the Atom all have similar artwork.
Other names working on the project include Andrew Orton, colourist for the series, who is also contributing to the Omega series and Demons of Eden; and, as letterer, Colin Brockhurst, who is the designer of the Doctor Who fanzine, Vworp! Vworp! (headed by Cutaway's head honcho, Gareth Kavanagh).
And as an added bonus, if you purchase the four-part series through Kickstarter, you'll be given each issue with a specially commissioned set of connecting covers from digital artist, Will Brooks, who currently produces covers for Titan Comics.
Stretch goals include commentaries with Sophie Aldred and Bonnie Langford, a video documentary about the culture behind girl gangs, and new audio adventures from Wyatt!
I'm glad to see that Cutaway Comics seem to be really well with its Doctor Who output, taking strange characters like Lytton and Omega or the Mandrels, and giving them some attention and further backgrounds, something that the show wouldn't be able to do on screen.
These series also appear to be getting quite popular, so I reckon we can expect some trade paperbacks in the near future, collecting each series in one book. In the meantime, check out their site for more information.
Paradise Found #1 is expected to be released in August 2021.