You can now pre-order 2 new Counter-Measures stories from Big Finish, which are due for release next year.
The Counter-Measures stories pick up the adventures of the team first introduced back in the 1988 Sylvester McCoy classic, Remembrance of the Daleks (written by Ben Aaronovitch). Simon Williams reprises his role as Group Captain Gilmore, who is joined by Professor Rachel Jensen (Pamela Salem) and Alison Williams (Karen Gledhill). Their boss is Sir Toby Kinsella, played by Hugh Ross. There have been 4 full series since 2012 and all the stories are set in the 1960s and '70s.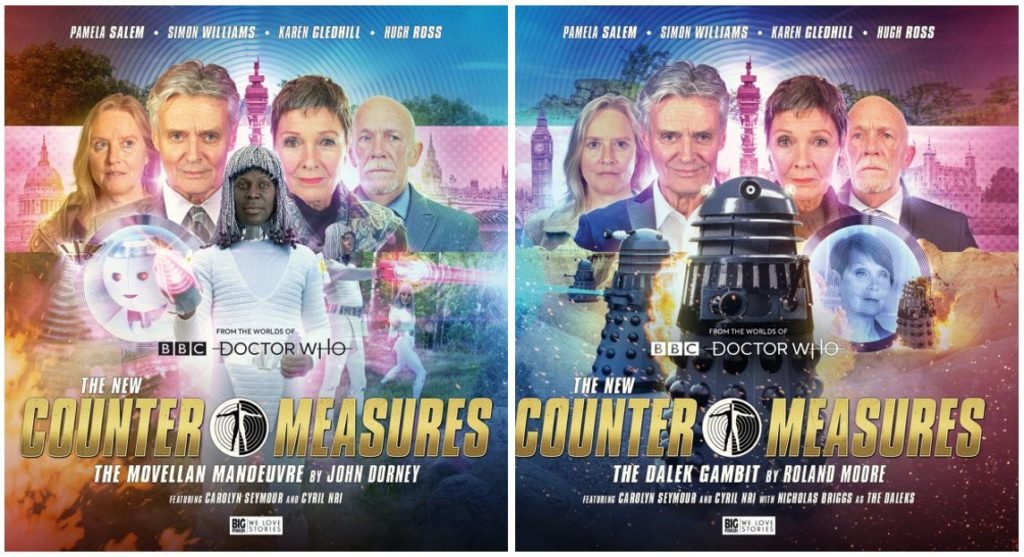 In these latest two stories, the regular cast are joined by Carolyn Seymour as Lady Suzanne Clare. Seymour is well known to genre fans for playing Abby Grant in Terry Nation's Survivors in 1975 and several Big Finish follow-ups. She has also appeared in episodes of Space: 1999, Star Trek: The Next Generation, Star Trek Voyager, Quantum Leap, and The Twilight Zone.
In The Movellan Manoeuvre, written by John Dorney, the Movellans (who first appeared with Tom Baker in Destiny of the Daleks in 1979) are involved in Lady Suzanne Clare's latest scheme. She's the glamorous international arms dealer, specialising in alien technology, who's the arch-foe of the Intrusion Counter-Measures Group (ICMG). Clare claims to be rolling out a device designed to help with household chores but is there a darker scheme beneath? (spoiler: yes) 'Chunky' Gilmore and team investigate…
In the Dalek Gambit by Roland Moore, the ICMG discover that key scientists who helped the Movellans are being murdered – and guess who's behind it? The team soon find themselves caught in an all-out Movellan-Dalek war with Professor Jenson forced to attempt to defuse a Dalek bomb that can obliterate all living matter…
Counter-Measures: The Movellan Manoeuvre and The Dalek Gambit, both directed by Ken Bentley, are available for pre-order from Big Finish at £8.99 on download or £10.99 with discounts if you buy both.