Somehow, we're at the end of January 2021 already. The word "already" used here is, of course, subjective. For many, January will have crawled along at a snail's pace; a snail, that is, under government-imposed lockdown. Imagine a snail in a glass jar: it's infuriated, tired of seeing the outside world but not being able to experience it, and running out of toilet paper because idiots have been panic-buying it. Okay, maybe ignore the snail analogy. The point is: January, eh?
Personally, I've always liked January. I like New Year's, when the world seems fizzing with possibility. "Come and get me", says the future. "But stay at least 2 metres away please, and can you wear a mask? I've provided hand sanitiser too and if you don't use it, strangers will judge you."
Nonetheless, many struggle with January. Still, at least the month began with a Doctor Who episode in which the Doctor did little to escape prison and then decided to crush a TARDIS, or something like that. No one could possibly get annoyed about that, right?
Yes, Revolution of the Daleks had it all. Or more accurately, it had some things, but not all things. Imagine an episode having it all. How tiresome.
"It took some 15 minutes to get the Doctor out of prison and I was reminded of Revelation of the Daleks, where the Doctor and Peri spend the whole of episode one wandering up to Tranquil Repose before they actually engage in the plot," says Frank Danes in his review. "Jack gets the Doctor out of prison but John Barrowman, like all the actors, seemed underpowered and de-energised, saying his lines slowly and lacking the zest of the character we used to love."
Oh dear. Well, we've got more thoughts on the episode coming up, but I've not collated them together in our regular "Here's What The Doctor Who Companion Thought Of <insert episode title here>" column because I am Very Lazy. Don't tell anyone.
Chin up, folks. Here's the 4-11 on January. Click on any of the bold bits to be redirected to that article. That's how the internet works.
News
Yes, news. Lots of exciting stuff was announced this past month. Here's what you probably didn't miss but nonetheless need a reminder of…
(And yes, more news happened than this, but we can't remind you of everything. If you're worried about missing out on news that Billie Piper broke a toenail on the set of The Long Game, or that Big Finish has declared war on AstroZeneca, check out our dedicated news section.)
Well, not yet. But he will. Yep, we've a new companion joining the Thirteenth Doctor and Yaz for the next series. His name is Dan and he is a man and he might have a van.
Jodie Whittaker Is(n't) Leaving Doctor Who!
Yes, Whittaker is vamoosing. Wait, no, she isn't. Ah, yes she is. No, no, she's staying. Okay, we don't know, but we can definitely say, with absolute certainty, that she's is 100% either staying or leaving Doctor Who in the imminent future.
He's not, but the bookies thought he was. Or is. Or… something. When Whittaker announced she might be leaving or might not be leaving or actually didn't announce anything whatsoever, the bookies started taking bets on who will be next to play the Time Lord.
Don't you think I look tired?
Staged Star Wants to Play the Doctor
Yes, it's Whoopi Goldberg. She's been in lots of stuff, and she still wants to be the first ever American doctor. I always thought you could obtain medical degrees all over the world, but hey, you learn something new everyday.
Merchandise
Oh yeah, as if you can fit more Doctor Who products on your heaving shelves.
So no one told you life was gonna be this way. Your job's a joke, you're broke, your love life's DOA. Or is that just me?
Anyway: the Doctor and Captain Jack are teaming up for Torchwood's 50th release. With sexy results. Maybe?
Big Finish is going all Time Crash as Doctors Five and Ten beat up Cybermen the size of Belgium.
Targetted Attacks on:
The Pirate Planet, Resurrection of the Daleks, and Revelation of the Daleks
The TV Movie, Dalek, and The Crimson Horror
Anthony Dry's covers have been revealed for these upcoming Target novels. They're released in March, but you can print off the covers now and gaze lovingly at them on Valentine's Day if that's your cup of tea.
Yes, it's the joke that Doctor Who failed to make back when Sylvester McCoy's Seventh Doctor debuted: "24/7"! Maybe they didn't because it's not funny or witty in the slightest, but equally, shut up.
Season 24's coming to Blu-ray soon. It features a ginger woman screaming, which is normally what happens when my Tinder dates meet me in real life.
Cutaway Comics delivers the goods. I received a review copy of Omega #1 from publisher/editor, Gareth Kavanagh this week; suffice to say, it's a beaut.
John Ridgway provides the cover and interior artwork, as you'll see…
Sexy Artwork of the Month
*Cue Bristol BLM protest flashbacks*
Reviews
We reviewed lots of stuff this month. Here's a small sample. If you want more, you're very greedy and we like you. Check out our reviews page so you know what's worth buying. You can't disagree with any of our reviews either; that's just how it works.
"Andy and Owen go deep into what life is worth living for, even when you're dead, and it certainly strikes a chord in this most melancholy of years. Look out for a certain character's theme being played towards the end and try not to have your heart pulled out of your chest and back to 2008."
"Jacob Dudman has nailed his Tenth Doctor impression, once again, by faithfully capturing the vocal essences of David Tennant. He has truly come into the role of narrating official Doctor Who audios, such as Time Lord Victorious: The Minds of Magnox, The Tenth Doctor Chronicles, and also several New Series Short Trips (Her Own Bootstraps, Regeneration Impossible, Dead Media, and the 2019 winning entry The Best-Laid Plans). This is more in the style of the Companion Chronicles, I would say, but with brilliant results."
"Some of the Doctor's plans here are as funny as they are clever, building on the Christmas movie vibe, and just adds to his arrogance as the Daleks spend time debating their chain of command and getting paranoid rather than putting a stop to his destructive interference as he looks for his TARDIS and a way out of the story."
"James Goss does a brilliant job to take you from this multi-Master party to out into the stars and then back into a single-room setting for the climax after three hours and lots of cutting back and forth between various incarnations. You are getting lots of masterful action here."
Quote of the Month
"How many people in the universe get to meet the Doctor, let alone travel with her? We're the lucky ones, Yaz. Enjoy the journey while you're on it. Because the joy is worth the pain."

Captain Jack Harkness, Revolution of the Daleks.
Features
Ah yes, quite a few features this time. Here's a small selection. Check out more by waving your mouse around a bit, specifically over this link, right here.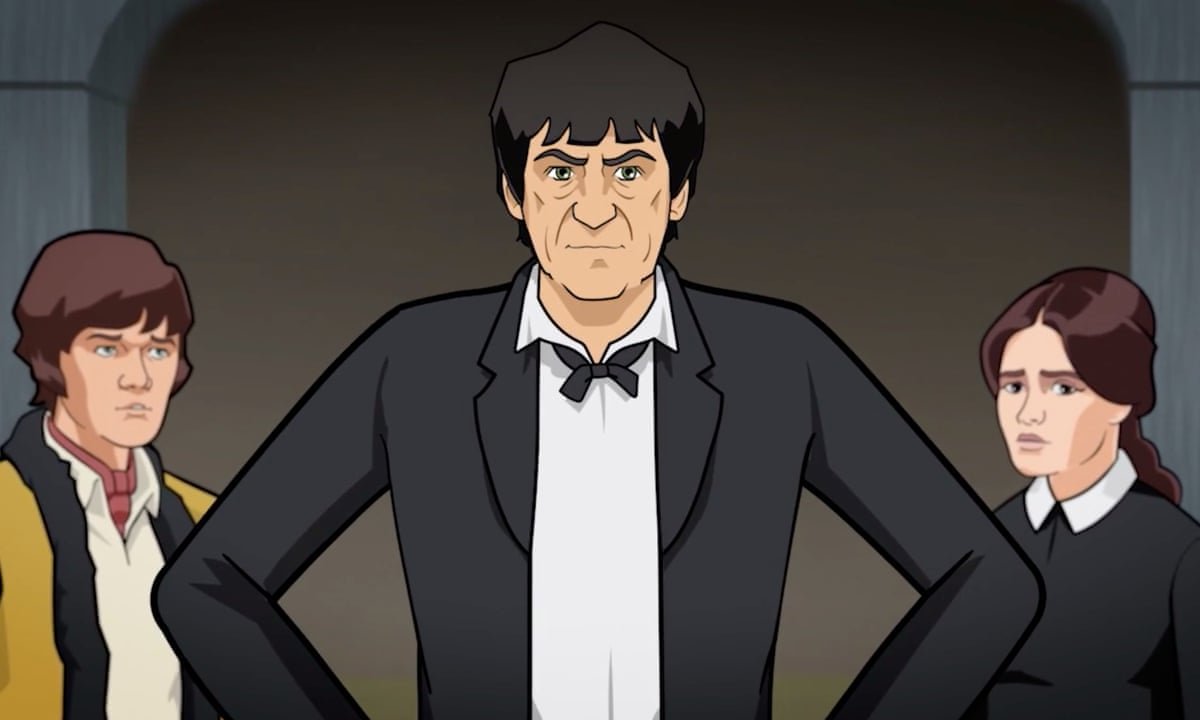 Jordan Shortman takes a look at Doctor Who's animated DVDs and Blu-rays, and refuses to do the old "because the sea weed" gag when talking about Fury From The Deep. He's fired, don't worry.
Frank Danes hangs out the back of a Blockbuster in the hope of meeting Bob Holness.
It'll be 10 whole years since Doctor Who Confidential was axed and frankly, I still think it was a dumb move. Peter Shaw channels his latent aggression into something good and celebrates the show itself, while I channel mine by beating up skinheads at a weekend. You've gotta have a hobby.
Bar Nash-Williams guides us around the Curator's Undergallery, which isn't a euphemism. This time, it's Da Vinci's turn to get the spotlight.
The World's Most Useless Companion
This certainly didn't cause a commotion at all.
What Else Is Good, Philip?
Great question. I'm glad you asked.
Outside the sphere of Doctor Who, Rupert Bear is celebrating his 100th anniversary. Few people know that I'm a big fan of this character and his friends in and around Nutwood. This week, I've even discovered someone who lives down my road who also loves Rupert. This is surprising as he's become one of those niche things no one talks about, perhaps because he's not been lavished with a couple of movies like Paddington and doesn't encourage kids to get diabetes like Winnie the Pooh. Said fellow Rupert fan is very smart and beautiful and as such, I'm horribly intimidated, so I'm just going to hide in a cupboard and hope things go well. It's the way we do things these days.
I've also taken advantage of Network's January Sale and got The Adventures of Rupert Bear on DVD for £NotVeryMuch.
Any Rupert fans here?
We've also been so close to breaking our all-time record for daily views on the DWC this month, so thank you very much for your support. We wouldn't be here without you. Well, we would, but we'd be screaming into the void. Like Twitter.
Wait, Don't You Have Something To Promote?
Absolutely nothing, no.
Oh, wait, yes.
Only this ENTIRE ANTHOLOGY OF FICTION THAT'S FREE TO DOWNLOAD RIGHT NOW.
Sorry, Caps Lock stuck there and I'm too lazy to rewrite anything. The cover's by James Baldock who reacted well to my "make sure Amy's in my Christmas sack" with good humour and so no redundancies were needed.
And that's it until February, which begins in the distant time of tomorrow. Alexa, play "Annie".