The past week has been quite hectic for me; between working and selling and dispatching loads of items on eBay, I somehow managed to find the time to collect the last little bits of spending money, pack a suitcase, and head off to London with a few friends to the October Comic Con, hosted by MCM and the Excel Centre.
This will be my third trip to the con: I first went in 2015, where I was lucky enough to meet and have a photo taken with Peter Davison and Sophie Aldred. That made the weekend and is still the best Con I've been to, mainly because of the sheer number of guests that where dotted around the event. In recent years, though, the smaller guests have dwindled away, not just from Doctor Who, and so now the venue is packed to bursting with dealers tables and various other bits and pieces to do.
I then attended the May comic con this year and wasn't as impressed. In the two years or so gap, things had changed, gone were the smaller, more affordable guests in favour of the massive names with the massive prices to meet them for five minutes. Also, there seemed to be nothing that I was particularly interested in. It was alright if you are in anime and manga but as I'm not, there wasn't anything there for me. I still enjoyed myself but not as much as I had done.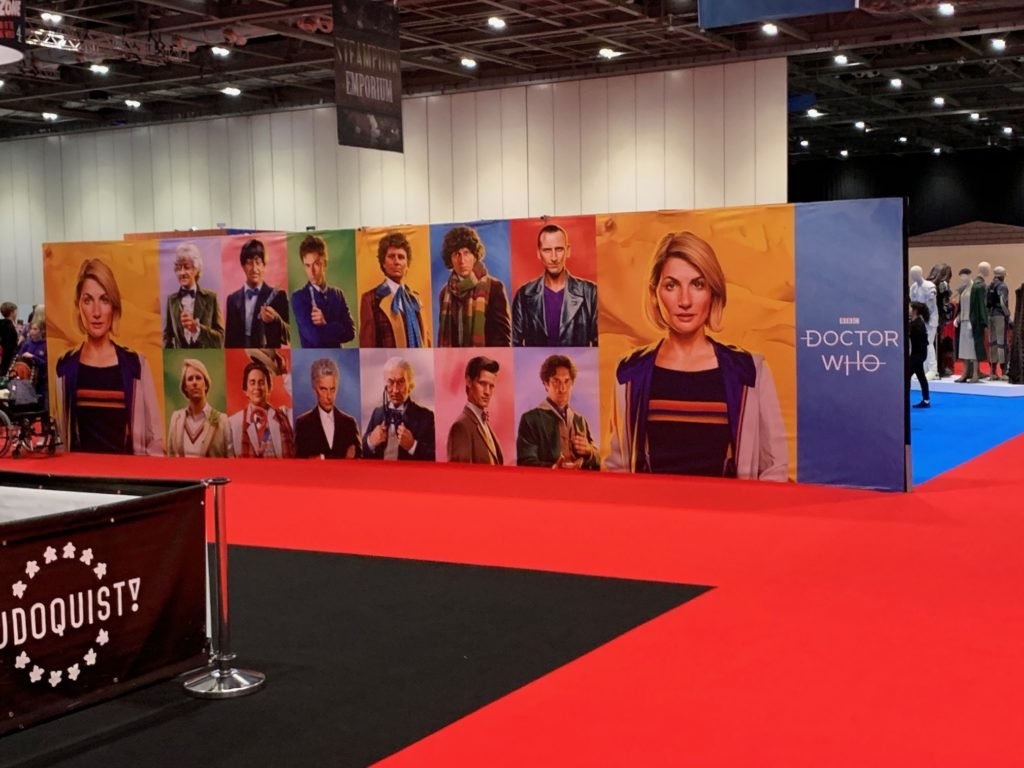 So it was a little trepidation that I approached the October one that took place from the 25th-27th. And then news came out that Doctor Who would have a big presence there this time. Well, I was excited, but not expecting much because there had been no big news since the announcement that the Judoon were returning. And while there still was no news announced at the convention, it looked like the BBC had actually put some effort into it this year!
Having navigated the trains and the underground, I'm from the country and used to big open spaces, so London has always been something of a culture shock to me – people living virtually on top of each other and the confusing London Underground maps and layouts really don't help me work out where I am… Whenever I do use the Underground, I still like to imagine that somewhere the Great Intelligence is laying in wait with the Yeti about to lumber from the shadows and strike! We had booked a nice flat in Canary Wharf so, as you do, the conversation turned to the battle between Torchwood, the Daleks, and the Cybermen. In fact, this was my first trip to Canary Wharf and we were surrounded by big sky-scrapers for big name brands so it wasn't hard to imagine that Torchwood One might still be lurking around somewhere.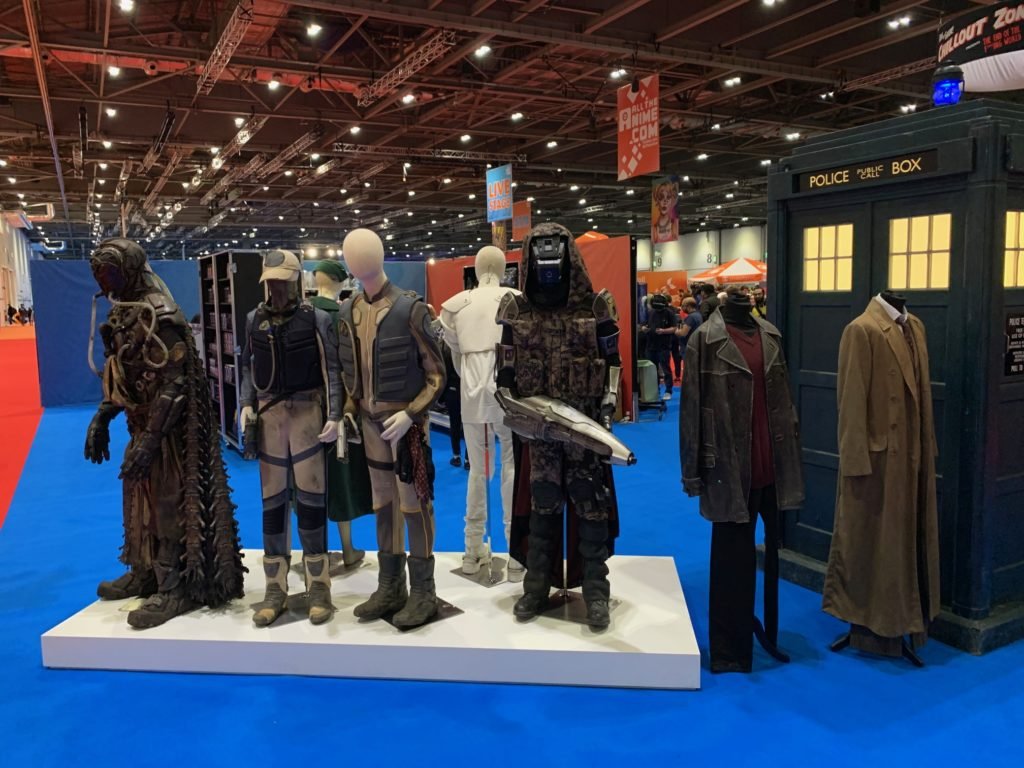 On Friday, after what felt like a mile-long trek to the back of the Excel centre, we arrived just after opening time and having purchased a weekend priority ticket, we were allowed right in. Our group split off into two teams; my friend, Scott and I headed straight for the Doctor Who exhibit while our other two friends, Lewis and Peter, went off in another direction.
I knew that there were going to be a number of costumes on display, though the website had only stated that costumes from Series 11 were going to be featured, so it was a nice surprise to see that they also had the costume for the Ninth, Tenth, Eleventh, and Twelfth Doctors, as well as Jodie's costume. Costumes from almost every Series 11 story featured, started off with Tim Shaw and rounded out by costumes worn in The Battle of Ranskoor Av Kolos.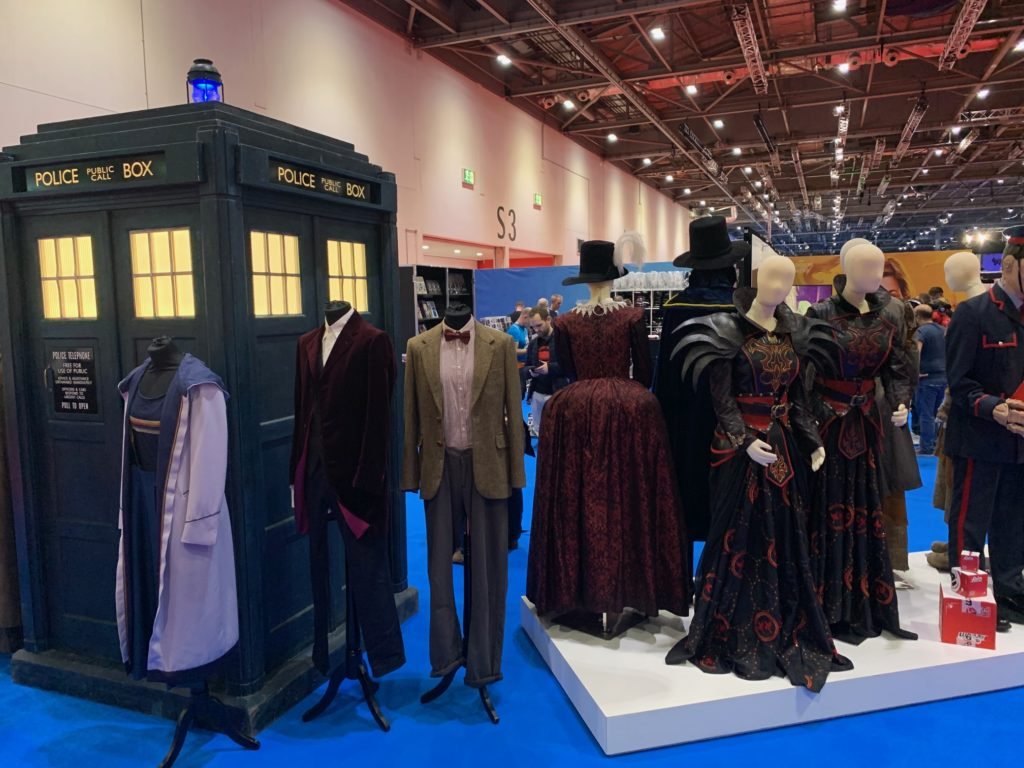 Tim Shaw impressed me with his appearance in The Woman Who Fell to Earth and his costume was very impressive in real life. That story is almost all entirely set at night so it was good to see some of the little details in the costume that I'd probably missed on my many re-watches of that story. The Kerblam! man was also impressive and still works as an effective creepy monster, even though it is just a dummy. He was surrounded by a number of Kerblam! boxes which was a nice touch and showed that someone cared about the display.
The Doctor Who corner was finished off with a small store selling a number of items and I was pleased that it wasn't just Series 11 merchandise. There were a number of novels and audiobooks for past Doctors, with the Sixth Doctor in particular getting the attention he deserved. While I missed out on getting a Doctor Who Christmas Jumper, I did manage to get my hands on an Ace Hoodie, which was limited to 100 for the con and I believe in general, though I suspect I will be seeing more of them on the Forbidden Planet site at some point!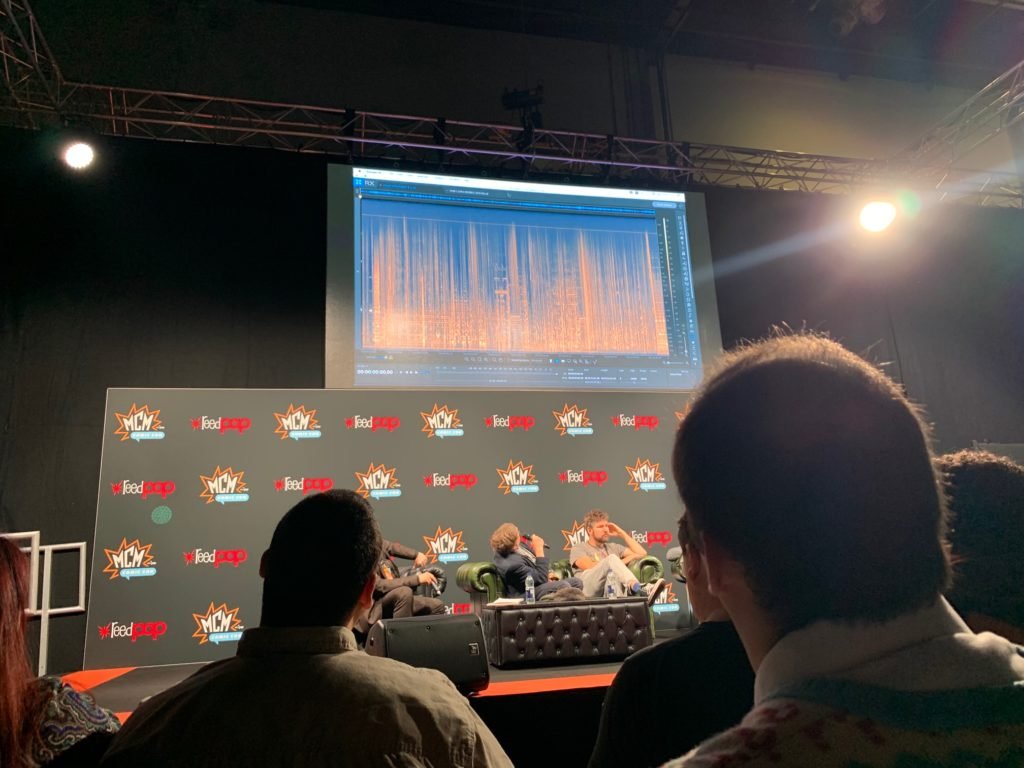 The rest of my Friday was spent flicking through comic book boxes and looking at some of the new Hasbro Marvel action figures. As a serious comic book collector, I found it difficult to take advantage of Panini's 3-for-2 offer on their graphic novels, so I just came away with a copy of the X-Men storyline, Extermination which saw the original X-Men team of Cyclops, Jean Grey, Beast, Angel, and Iceman being returned to their original timeline. I have literally read every other series they had on sale.
I've always had a love/hate relationship with Saturdays at a Con. And this Saturday didn't prove any different. Perhaps the biggest problem that hits any Con on Saturdays is the sheer amount of people who turn up. While everyone is still polite in general, it's a mad crush.
What didn't help was how bad the weather had proven to be. After a torrential downpour, everyone packed inside and suddenly you couldn't move! I spent the day walking in first-position (ballet dancers will know what first position is). As a result, I ended up with a number of bruises on my feet! But it was a small problem in what was an otherwise great weekend.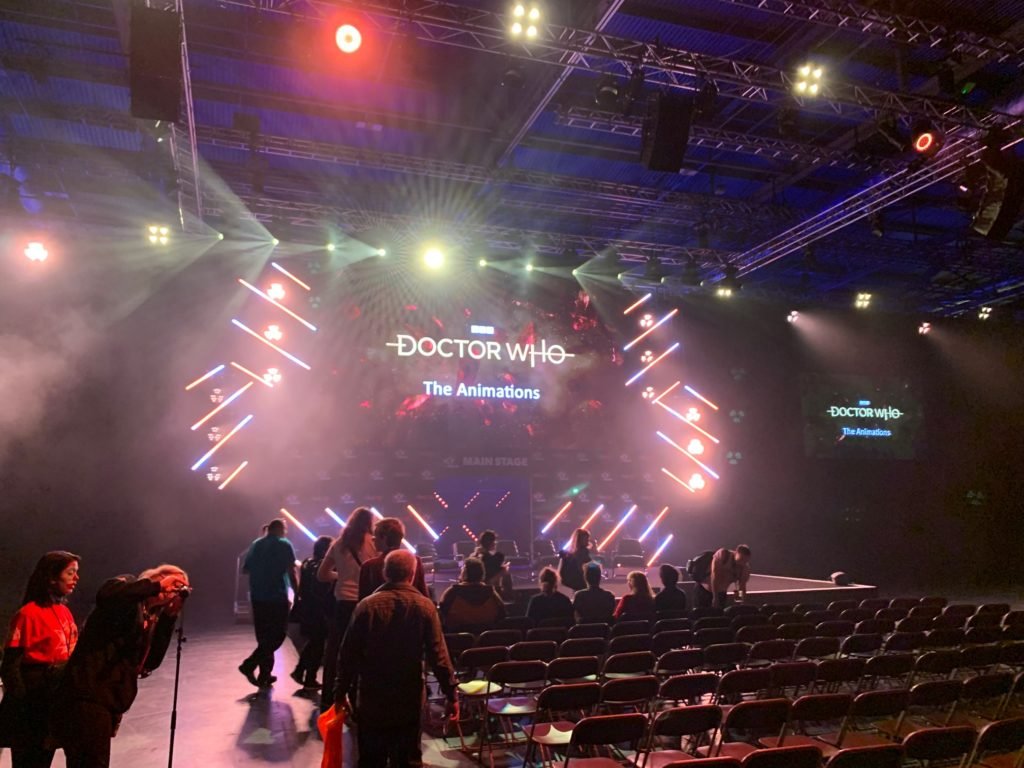 The group I was with made sure we were there early and the first stand we headed to was for the upcoming Birds of Prey movie. While I think they should have just called it Harley Quinn – there has hardly been any promotional material of the actual Birds of Prey – I was happy enough to have my picture taken in a Friends setup and get a free bag out of it, which always comes in handy at these cons; you never know what you're going to come home with.
The other big thing that we did on Saturday was head to the Alex Rider panel, where we got exclusive clips and new trailers for the upcoming television series, the first series of which will focus around the book, Point Blanc. It was a great talk with author and creator, Anthony Horowitz and some members of the main cast. There was the usual Q&A at the end. One that sticks out was someone telling Horowitz that the Stormbreaker movie, from 2005, was bland and boring, and asking whether the TV series would follow suit. The kid, who could have been no older than sixteen, clearly didn't know that Horowitz actually wrote the screenplay for the Stormbreaker movie and wondered why the whole audience gasped! It was hilarious and you could have heard a pin drop. Horowitz's answer was equally as sassy as it was informative.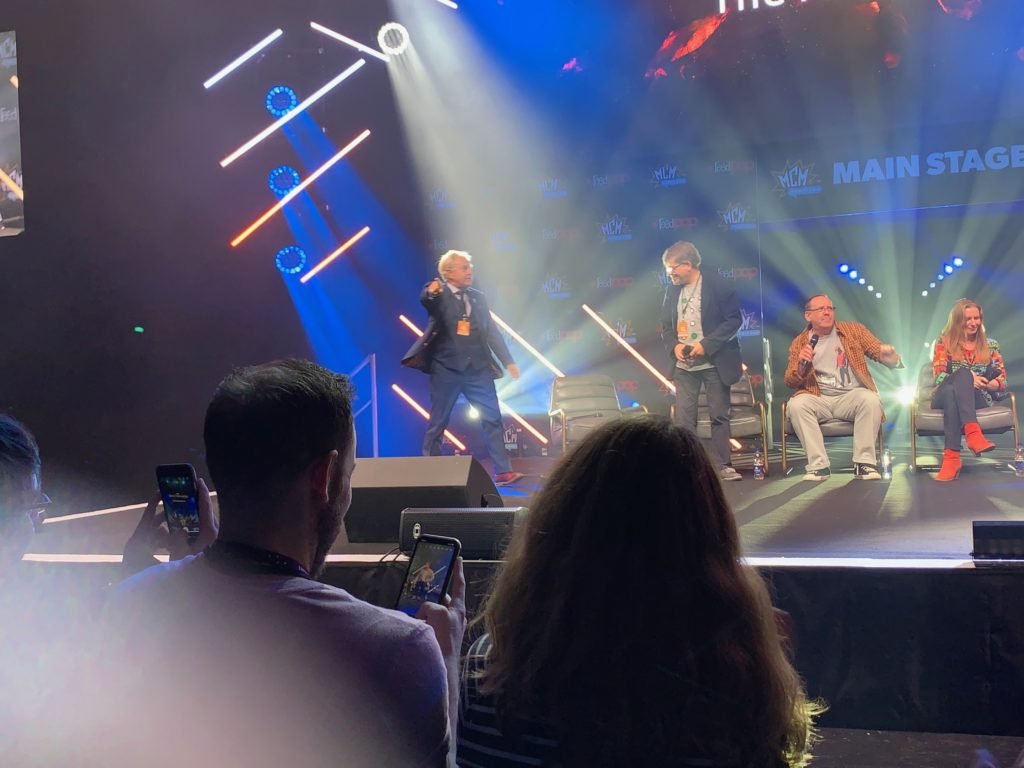 Sunday was the day to be there if you were a Doctor Who fan with a number of panels taking place over the course of the day. The first of which was The Collections, hosted by Toby Hadoke and featuring a number of guests including Lee Binding, Chris Chapman, and Mark Ayres. It was an excellent talk. We made sure to get to the queue early so we could get a decent seat and the third row from the front isn't too bad! Scott and I are huge fans of Doctor Who while our other friends, Peter and Lewis are more causal fans. But we were surprised to find out that they had thoroughly enjoyed the panel. We were treated to exclusive clips from the upcoming boxsets, including a humorous segment from Behind the Sofa where Anneke Wills falls in love with Arthur in Battlefield and Janet Fielding explains that he must be a baddie with a name like Mordred. "It's not less-dread; it's MORDRED, MORE-DREAD!" The audience were in stitches as were Anneke and Sarah Sutton who were also on the sofa watching the story.
We got to see the exciting trailer again, which, with the announcement that Ace will be meeting the Thirteenth Doctor in a brand-new original novel, might have been something that was meant to promote the new Blu-ray set as well as whet our appetites for her to return to the modern Who scene. The trailer was greeted with great applause – it's certainly been my favourite one so far! We also saw some pieces from The Writers Room and The Showman: The Life of John Nathan-Turner, both of which promise to be informative pieces.
Lee Binding showed us how he makes the stunning cover art, something he said takes a number of weeks to accomplish – and that's just creating the photo of the Doctor, never mind the background and the monsters on the front. And Mark Ayres showed us how much work goes into creating the restored sound. Some of the clips were the sound-effects notes that come from Episode One of The Mysterious Planet and the soundscape from Episode One of Planet of the Daleks. It looks like really hard work and it makes you appreciate how much work and love goes into creating these sets!
The panel was rounded out with the news that Frazer Hines had reached the building and was trying to get inside, which was hilarious thanks to Hadoke's deadpan explanation. So while Peter and Lewis went off for another wander around, Scott and I rushed over to the other side of the venue to reach The Animations panel on time.
And much like The Collections panel, The Animations one was another fascinating talk. I was very pleased to see that Hines is still on great form and he was funny and energetic throughout the whole 45 minutes. We were sat again in the third row back, behind a number of Doctor Who publicists, many of whom I recognised from the pages of Doctor Who Magazine. As well as Frazer Hines and Toby Hadoke, Gary Russell, Mark Ayres, and the head of the animation department and the range editor were in attendance.
The talk about The Faceless Ones was very interesting and we got some idea of just how long these animated recreations take to make. Apparently there was still 65 seconds of footage left to animate. But we did get treated to a clip of the opening episode where the TARDIS lands on the runway.
No doubt the biggest reaction came with the announcement of the next animation: Fury from the Deep. It was great and, as a story I've always wanted to see, I was very happy! By now, you'll have seen the trailer but the applause and cheers were immense, proving to the BBC that Doctor Who is still just as alive nowadays as it ever was.
Overall, I had a great weekend, full of laughter and fun! Even if the weather didn't stay nice and everyone was crammed inside on Saturday, I still enjoyed myself. Now a week or so later, the bruises have vanished and I've just started to catch up with everything again. With no real conventions until next year, I've got a bit of time to relax and take a breath before planning starts for the next one…