We have months to wait for the Doctor Who 60th anniversary specials, but one of the best ways to distract yourself from the anticipation is listening to some Big Finish audios.
From the Classic era to the New Series and various spin-offs, there are plenty of full-cast audio dramas worth recommending as starting points, for dedicated Doctor Who fans and casual listeners alike. So here is our Top 10 New Series audio recommendations in release order, all of which are magnificent in different ways! But it's always advisable to watch the TV episodes beforehand. So let's start with…
1. The Tenth Doctor Adventures Volume 1
The first New Series audio release with David Tennant and Catherine Tate reprising the roles of the Tenth Doctor and Donna Noble respectively. Set during Series 4, this anthology consists of:
A brilliant variety of standalone stories, each taking place in the past, present, and future. Packed with nostalgia and charm of Russell T Davies' first era as showrunner, it's definitely worth the listen in preparation for the 60th!
Volume 1 comes with PDF scripts for each story, which are available to download for free in your accounts. Perfect for reading alongside the audios, this is a must for fans and aspiring writers who are keen to understand how the Big Finish scripts are formatted.
With the Limited Edition deluxe slipcover book — sadly no longer available on the Big Finish website — you can still purchase the digital download which comes with a behind-the-scenes documentary and a feature on Doctor Who at Big Finish. However, there's also the Standard Edition boxset if you still wish to purchase this volume on CD.
2. The Tenth Doctor Adventures Volume 2
The second volume in the range, with Billie Piper reprising the role of Rose Tyler in her Big Finish debut. Set during Series 2, this anthology consists of:
Just like its predecessor, each story takes place in the past, present, and future. What I love about Volume 2 is that it features Camille Coduri reprising the role of Rose's beloved mum Jackie Tyler in Infamy of the Zaross, then the Ice Warriors as the main villains in Cold Vengeance. A brilliant way to bring about some familiarity into the mix. And despite the numbering, you can listen to both volumes in either order, whichever way you like.
While the Limited Edition is currently available to purchase on CD (together with a digital download), there is still yet to be a Standard Edition set (the same goes for Volume 3). Why not pop in a request to Big Finish?
3. Regeneration Impossible
Yes, I know this is a Short Trip (only available to download), but what's unique about Regeneration Impossible is that it's a full-cast audio with Jacob Dudman performing both the Eleventh and Twelfth Doctors.
Written by Alfie Shaw, it's an experimental masterpiece in the Short Trips range, with Dudman nailing his impressions of Matt Smith and Peter Capaldi. Basically a half-hour taster of the Steven Moffat era incarnations; set before The Snowmen, for the Eleventh incarnation; and set during Series 10, for the Twelfth.
I can also say that it's worth listening to before Geronimo! (More on the boxset later.)
4. The Out of Time trilogy
The nostalgic multi-Doctor series with the Tenth Doctor teaming up with three Classic era incarnations against three different familiar enemies:
A perfect opportunity for first-time listeners to hear how David Tennant interacts with his predecessors, as well as what they're like on audio. Many Whovians should note that Tennant was a big fan of Tom Baker's Doctor during his childhood, and later Davison, his father-in-law, whom he starred alongside in the Children in Need 2007 minisode, Time Crash.
Despite each story being released individually once a year, from 2020 to 2022, it's best to purchase the entire trilogy as a bundle to save money, so that you can either listen to them in release order or mix around. If there were to be another multi-Doctor trilogy featuring David Tennant, I would love it to be a boxset with the First, Second, and Third incarnations (à la Star Wars prequels), respectively voiced by Stephen Noonan, Michael Troughton, and Tim Treloar.
And feel free to check out Josh Snares' Out of Time 1 fan animation. It's actually one of the best fan projects I've ever seen!
5. The Tenth Doctor and River Song
The de facto fourth volume of The Tenth Doctor Adventures, featuring the Doctor's (future) wife and recurring companion as played by Alex Kingston (Happy 60th Birthday, Sweetie!). It's a brilliant opportunity for River Song to reunite with David Tennant's incarnation, after making her debut in Steven Moffat's acclaimed two-parter Silence in the Library/Forest of the Dead. Set after the Series 4 finale The Stolen Earth/Journey's End, this anthology consists of:
It's an experimental boxset that gives a flavour of expanding River Song's timeline on audio, as a way to get listeners interested in her spin-off series The Diary of River Song. Considering that she and her husband don't meet in the right order, these stories don't form a serialised arc (which I don't mind), hence why you can purchase either the full boxset (with behind-the-scenes) or each release individually.
And with the Fifth and Sixth Doctors making cameos in Expiry Dating, despite the former incarnation appearing on the cover artworks, I think it might have foreshadowed the Out of Time trilogy. Or could it have just been a coincidence? Well, to quote a popular catchphrase, "Spoilers!"
6. Dalek Universe 1
The first volume of an epic nine-episode story arc, spread across three boxsets; something which previously hadn't been done in Big Finish's Tenth Doctor range. I call this an extension of Series 4 and the 2009 specials, produced in the most satisfying way. Reunited with former companion Anya Kingdom (Jane Slavin) and android Mark Seven (Joe Sims), the Doctor encounters the Mechanoids and some familiar enemies in:
Buying Time/The Wrong Woman by John Dorney
The House of Kingdom by Andrew Smith
It's a perfect starting point for Whovians and casual listeners alike, delivering some of the most shocking plot twists and cliffhangers, with plenty of nostalgic callbacks to the Classic era. And despite the Daleks being (almost) entirely absent from this boxset, you won't be disappointed. Because they prominently feature in the next two volumes alongside Davros (Terry Molloy), River Song, and many more.
Honestly, I love the first three episodes, but I would like to share a few words from my review:
The two-part opener outstandingly shapes up the Dalek Universe arc by mixing in the vibes of both the Russell T Davies and Steven Moffat eras on an epic, thrilling scale.
Dalek Universe 1 can be purchased separately, or as a bundle alongside the second and third volumes (I personally recommend the latter); and with or without its prequel The Dalek Protocol, featuring the Fourth Doctor, Leela (Louise Jameson) and K9 (John Leeson).
If the entire Dalek Universe miniseries isn't the only Big Finish highlight of 2021, there's also…
7. Respond to All Calls
Winner of the #BF2021 Twitter poll, the second volume of The Ninth Doctor Adventures features Christopher Eccleston reprising the role of the Ninth Doctor, more than 15 years after stepping down. (Isn't he still fantastic!) Set before meeting Rose Tyler in Series 1, this anthology consists of:
Girl, Deconstructed by Lisa McMullin
Fright Motif by Tim Foley
Planet of the End by Timothy X Atack
Three standalone stories each taking place in the past, present, and future, capturing the vibes of the RTD era. It's a fantastic boxset which feels more suited as a starting point than Ravagers (no offence to Nicholas Briggs); something that I completely agree with Ida Wood, from their review:
All in all, it's an improvement on the first set of audio episodes, which were very much contributing to one longer story, and has original ideas as well as top-class performances from its leads. The vigour of Eccleston is a delight to hear, and has been long-awaited after his many years out of the role.
According to Tim Foley in the behind-the-scenes, Respond to All Calls was initially intended to be the first volume, to allow Briggs more time to write Ravagers. Nonetheless, this is my absolute favourite release in the range thus far, despite enjoying all the other seven volumes. So, buy it now and treat yourself to the trip of a lifetime!
Once you're done, feel free to check out this live stream from 2021, where the Big Finish team discuss the production process of Girl, Deconstructed (my favourite Ninth Doctor audio story).
8. Timejacked!
The second volume of The Twelfth Doctor Chronicles, but also Big Finish's first full-cast audio release featuring the Twelfth Doctor (voiced by Jacob Dudman). Set during Series 10, this anthology consists of:
Flight to Calandra by Matt Fitton
Split Second and The Weight of History by Lou Morgan
An experimental three-part arc with unbelievably outstanding results, the Doctor is whisked away from St Luke's University by Time Agent Keira Sanstrom (Bhavnisha Parmar, best known for playing Yaz's sister Sonya Khan), as they embark on a wibbly wobbly, timey wimey adventure from planet Calandra to Bath, 1813. It's a brilliant opportunity for fans to hear Dudman nailing his Peter Capaldi impression, as highlighted in Ida Wood's review:
With each go at the Twelfth Doctor that Jacob Dudman gets, the stronger his performance grows, and in Timejacked!, he does an absolutely brilliant job that should convert anyone whose interest is undone purely on if the original actor is not in the role.
While Timejacked! may be the only full-cast Twelfth Doctor boxset so far, there's always hope for more volumes in The Doctor Chronicles range. If Dudman's unable to reprise the role, maybe Dan Starkey could take over after narrating Emancipation of the Daleks and The Three Flames (from Short Trips Volume 12)?
9. Tenth Doctor, Classic Companions
Yes, the one where he reunites with Leela, Nyssa (Sarah Sutton), Ace (Sophie Aldred), and K9 in:
Splinters by John Dorney
The Stuntman by Lizzie Hopley
Quantum of Axos by Roy Gill
Forming a loose story arc, this anthology opens the doors for listeners to get to know some of the Doctor's former companions from the Classic era — an homage to how he reunited with Sarah Jane Smith in my all-time favourite episode School Reunion, a good few decades after travelling across the universe.
It's a shame, however, that there are currently no plans for a second volume of Tenth Doctor, Classic Companions, but we should be grateful for the variety of stories combining multiple eras. And despite reuniting with Ace in this boxset, I don't have a problem with these events contradicting The Power of the Doctor, which also features the return of Tegan Jovanka (Janet Fielding).
And last, but definitely not least…
10. Geronimo!
The third volume of The Eleventh Doctor Chronicles, but also the first in a 12-part story arc which spreads across four boxsets. Set during Series 7, the Eleventh Doctor (voiced by Jacob Dudman) and his cyberneticist companion Valarie Lockwood (Safiyya Ingar) begin their epic journey across the universe in:
The Inheritance by Alfie Shaw
The House of Masks by Georgia Cook
The End by Rochana Patel
As it says on the tin, Geronimo! is the definitive jumping-off point for anyone who wishes to try out an Eleventh Doctor audio. Just like the entirety of Dalek Universe, the serialised structure gives enough leeway for character-driven storytelling and nostalgia to properly tie in with the respective TV episodes.
But that's not all. I've been overwhelmingly impressed with Dudman's uncanny Matt Smith impression, since way before he joined Big Finish. Here's what I had to say in my review:
Every time I hear the Eleventh Doctor in these audios, I don't picture Jacob Dudman. I picture Matt Smith. Completely identical and uncanny, he perfectly captures the incarnation's vocal essences and mannerisms throughout the entire boxset, just like in the previous volumes. It is sad news, however, that Dudman is stepping down from the role after six years, but I respect his wishes. Nevertheless, doing a story arc across four boxsets is the best way for him to bow out (not referring to bowties, which are indeed cool).
And if you enjoyed this boxset, you'd also want to check out its immediate successor All of Time and Space – another whopper!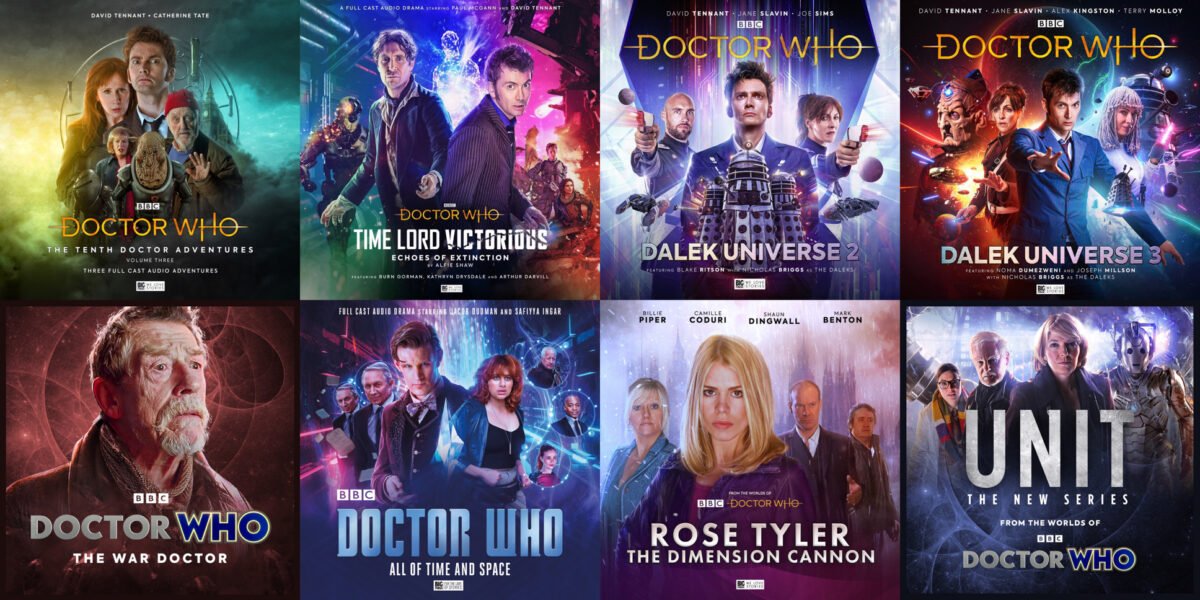 Overall, Big Finish has plenty of audios to choose from, including our Top 10 New Series recommendations which you can purchase on CD/digital download or Limited Edition vinyl. It's an expanding universe of storytelling, ranging from Doctor Who and various spin-offs to other franchises; hence why I love their current tagline, For the Love of Stories.